The Asian Development Bank (ADB) has approved a US$53.2 million loan for Viet Nam to improve water supply and sanitation in the central region.
An ADB announcement on Wednesday said the loan would support a project in which about 114,000 households will benefit from improved water supply, sanitation and enhanced community health.
The ADB explained why the central region has been selected: "Most of the recent infrastructure investments in Viet Nam are concentrated in northern and southern urban areas, while investments in the small and medium-sized towns of the central region – one of Viet Nam's poorest – have been neglected."
"With improved water supply and sanitation, it is expected that the project towns will become more productive and competitive, and catch up with towns in other regions," ADB urban development specialist Januar Hakim said in the announcement.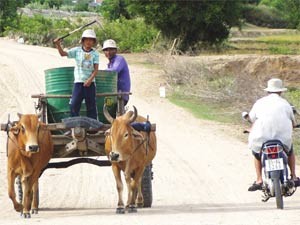 A bull-drawn carriage carries fresh water in Phan Rang, one of the eight towns that will benefit from this ADB-loaned environmental project. (Photo: Tuong Thuy)
The project will help develop and expand water supply and sanitation infrastructure in eight towns. In Ca Na, Gia Nghia, and Ninh Hoa, the project will improve access to safe water for the locals and reduce the risk of public exposure to water-related pathogens in tap water.
In the six towns of Cam Ranh, Gia Nghia, Phan Thiet, Song Cau, Phan Rang and Tuy Hoa, drainage and wastewater treatment works will be carried out.
Solid waste management will be improved in Cam Ranh, Gia Nghia and Song Cau to clean up the environment, make conditions healthier for waste pickers, and support the private sector's waste collection.
The total cost of the project is estimated at US$66.72 million, with the ADB's loan financing about 80% of this. The Central Government and local governments will shoulder the balance.
The project will be carried out over five years until December 2011.
Just yesterday, the ADB announced a US$1.7 million grant for Viet Nam to prepare for building two subways in Ho Chi Minh City, the country's biggest commercial hub.
Related article
ADB Announces $1.7 million Grant for Planned Subways