The Asian Development Bank (ADB) and the State Bank of Vietnam September 7 signed two loan agreements totaling US$160 million and US$11 million grant agreement.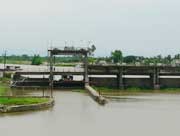 Cau Xe drain - an important part of Bac Hai Hung irrigation and drainage system. ADB will help improve the drainage which is in poor repair
The country will use the sum to expand access to quality healthcare services, especially for women, children, and ethnic minorities, and to improve irrigation infrastructure in the water sector.
US$60 million loan from ADB and a US$11 million grant from the Government of Australia will finance the Health Human Resources Sector Development Program which will support health system reforms that address key constraints that underpin health service delivery, especially the management of human and financial resources.
"Vietnam needs to accelerate, and step up socially inclusive policy reforms to address inequalities and improve delivery of social services such as healthcare, as improvements in health status especially of the poor and ethnic minorities are critical to achieving the country's development goals of inclusive development," said Mr. Konishi.
The program will establish systems for the licensing and registration of all health personnel as well as health institutions, upgrading of training facilities, training of ethnic minority health workers, and facilitate the adoption of standard treatment and costing packages for health services provided to the people of Vietnam. The Ministry of Health is the executing agency for the program, which is expected to be completed by end December 2015.
Another US$100 million loan signed was for the Strengthening Water Management and Irrigation Systems Rehabilitation Project. This project will repair the 50-year-old Bac Hung Hai irrigation and drainage system in the northern provinces of Hung Yen, Hai Duong and Hai Phong. It also construct a new campus for the Water Resources University (WRU). The Agence Française de Développement (AFD) is co-financing the project with a loan of €20 million.
The Government of Vietnam will provide counterpart financing of US$51 million for the project. The Ministry of Agriculture and Rural Development is the executing agency for the project, which is expected to be completed by end June 2016.
A total of 13,400 students and 800 faculty members will be first beneficiaries of improved quality of education supported by better learning and accommodation facilities at the new WRU campus, who in turn deliver the benefit of the project to a far larger number of farmers. In addition, more than 560,000 people in the Bac Hung Hai area will benefit directly from increased household incomes from improved irrigation and 1.9 million people in this area will benefit from improved drainage and reduced risk of flooding.