The Asian Development Bank will support training for secondary school teachers in Viet Nam with a US$34 million loan the bank announced on Tuesday.
"This project will help ensure that students in Viet Nam will receive quality education that expands and improves employment opportunities," ADB senior education specialist Sukhdeep Brar said in this statement.
"Students will benefit from instruction by a better qualified teaching force," she added.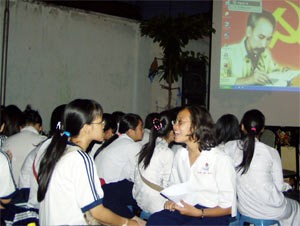 Secondary school students take extracurricular activities to know more about history in Ho Chi Minh City (Photo: Tuong Thuy)
The Ministry of Education and Training is the executing agency for the project, which is due for completion in 2012.
Viet Nam has made significant progress in improving access to education, with about 94% of children enrolled in primary school and 51% enrolled in secondary, according to figures in the bank's data. This compares to a secondary education enrollment rate of only 19% in 1993, as also seen from ADB data.
The Vietnamese Government expects enrollment to increase in secondary schools and needs to ambitiously expand the number of qualified teachers in the country. An estimated 58,000 more secondary school teachers will be needed by 2010.
Ms. Brar said, "This large increase will strain the ability of training institutes to supply the teachers required. The challenge is not only to increase the number of trained teachers but also to enhance the quality of training."
The Vietnamese economy is growing faster than that of all other Southeast Asian countries, with an expected growth of 8.5% for this year, and the Government wants to improve the quality of education to sustain the economic growth pace and maintain competitiveness.
The ADB-loaned project will provide money to train secondary teachers, collect and analyze educational data, assist with teacher and accreditation, and help modernize equipment and facilities for teachers and students.
Training programs will be organized to help improve secondary school teachers' skills. Ethnic people, particularly women, will have greater access to teacher training programs through the provision of scholarships, dormitories, and enhanced facilities serving ethnic minority areas.
The ADB's new loan, covering about 79% of the project cost of US$43.18 million, carries a 32-year term, including a grace period of eight years. Interest is 1% per annum in the grace period and 1.5% per annum for the rest of the term. The Government will provide the balance of US$9.18 million.