The Asian Development Bank (ADB) said Monday it has approved a project that would help Cambodia, Laos and Vietnam scale up the use of biomass waste in agriculture to meet growing need for clean energy and food security for poor rural households.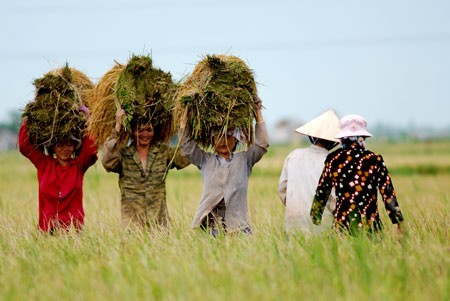 (File) Vietnamese farmers harvest rice from the paddy field. Rice husks are biomass waste that can be used as a source of clean energy, the Asian Development Bank says. (Photo: VNExpress)
It is a technical assistance project that will be funded by a US$4 million grant from the Nordic Development Fund along with counterpart financing of $600,000 from the governments of Cambodia, Laos and Vietnam.
"Promoting more efficient use of biomass can simultaneously address the goals of fighting climate change and improving the well-being of the rural poor, which are often seen as competing priorities," Sununtar Setboonsarng, principal natural resources and agriculture economist in ADB's Southeast Asia Department, said in an announcement Monday.
The bank said it would administer the grant and carry out the project in the three countries.
Biomass waste – such as rice husks and animal manure – is abundant in the countries but is not efficiently used as a source of clean energy or as fertilizer, according to ADB. In addition, the growing practice of large-scale crop production for biofuel poses a threat to food security by reducing food production and forest land.
ADB said the project would fund pilot investment projects to scale up biomass technologies such as household biogas systems, biochar kilns, and improved cooking stoves. The project will also conduct studies, build human and institutional capacity on biomass investment, and promote regional exchange among the three countries.
The project is due to begin in July 2011 and will be completed by December 2014, the bank said.
The Nordic Development Fund is the joint multilateral development institution of Denmark, Finland, Iceland, Norway, and Sweden, providing grant finance for climate change interventions in developing countries.