The Ministry of Health organized a ceremony to welcome the 90th million citizen of Vietnam at the Central Obstetrics Hospital in Hanoi on November 1.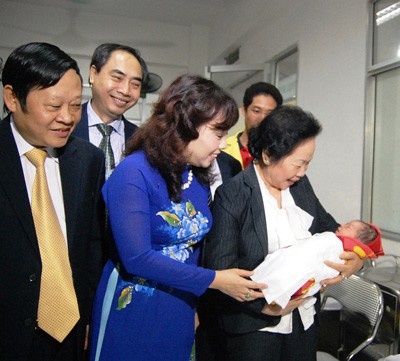 Vice president Nguyen Thi Doan carries the lucky baby girl (Photo: SGGP)
Vice President Nguyen Thi Doan, Health Minister Nguyen Thi Kim Tien and leaders from the Ministry of Health, Ministry of Labor, Invalids and Social Affairs and the General Office of Population and Family Planning arrived at the hospital to present gifts to the 90th million citizen of the country.
The lucky baby girl is Nguyen Thi Thuy Dung, born at 2.45 am at the Central Obstetrics Hospital in Hanoi. The baby is the second child of Le Thi Duyen and her husband Nguyen Van Dung from Hoang Xa Village in Nam Sach District in the Northern Province of Hai Duong.
While carrying the newborn in his arms, Vice President Doan expressed immense happiness.  First of all, she congratulated the parents as their second child will be part of the 'golden population' of the country, who will bring new challenges, progress and new ideas to the country.
Doan said the Ministry of Health and the family planning sector should adopt population policies whereby children of the 'golden population' can develop in all aspects of mental and physical health.
Dr. Le Thien Thai, Deputy Chief of the Central Obstetrics Hospital, said the lucky baby girl was born by natural birth and both her mother and the baby are in good condition.
Le Thi Duyen, the baby's mother, said all her relatives were very moved when they heard her baby was selected as the 90th million citizen of the country. This is really a big event and a great honor when the baby received encouragement and congratulations from people across the country.
Meanwhile her father said that he did not care much whether the child was a boy or a girl. He and his wife will try their best to bring up the girl as a good citizen.
Deputy health minister Nguyen Viet Tien also expressed his eagerness to welcome the special citizen of the country. With 90 million people, Vietnam is the 14th most populous country in the world and the third in Southeast Asia. This is a good opportunity for boosting socio-economic development as the country has around 62 million people of labor age. If the country can take advantage of this special period, it will prosperous more rapidly.