Nine young persons in their twenties were found dead in a house in the northern city of Hai Phong on the afternoon of Sunday, Feb 6, presumably from an excessive dose of alcohol or drugs.
Pham Van Thuc, 50, returned home after a trip during Tet, to find his 28-year-old son and eight others, including two young women, lying dead on the floor of the house on 122 Nguyen Van Hoi Street, Cat bi ward, Hai An District. Tran Thanh Hai, a neighbor living near the house told reporters that the previous night all the young victims were having a dance party with loud blaring music. When the electric power went out at 1 am, they parked their cars and motorbikes in front of the house and continued to party.
People at the scene revealed that at 3 pm of the same day, the owner of the house returned to find that several men and women lay motionlessly on the floor. There appeared to be no signs of bruises or injuries on their bodies. Amongst them 7 were lying motionless as if dead and 2 apparently were breathing their last.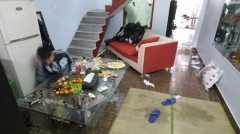 The room where the young men and women were found dead
On examination of the premises, the police found no signs of a murder or robbery, since all the victims appeared unhurt and all property and belongings lay intact. Hence the police concluded that the 9 persons could have died because of an overdose of ecstasy or some other drug and also because of asphyxiation as all the doors and glass windows were shut tight. Some empty bottles of liquor were scattered on a table indicating the victims were dancing and partying in a euphoric state.
All the victims were pronounced dead upon arrival at the Viet-Tiep Hospital in the city.
The police say nine friends died of apparent carbon monoxide poisoning early Sunday during a lunar New Year party after they started a car parked inside a house to play music following an electricity outage.
A police officer says the car was started after the power went out. Its headlights and stereo were turned on inside the 20-square-meter (215-square-foot) house, which had all windows and doors closed. The officer identified himself only as Le because he was not authorized to speak to reporters.