The seventh session of the 12th National Assembly convenes its 30-day meeting today in Hanoi.  Representatives will consider a series of bills and resolutions on national key projects and the legislation program for 2011.
In the first day of session, the NA will review last year's social and economic situation, assess the progress of ongoing programs, and set forth goals it seeks to accomplish during the remainder of the year.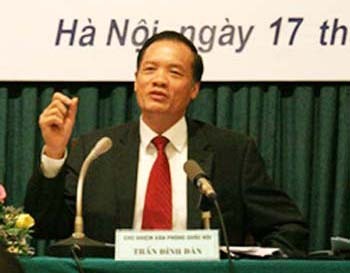 NA Office Chairman Tran Dinh Dan briefed reporters on the agenda of the 7th session of the 12th NA, at a press conference in Hanoi on May 17 (Photo: VGP)
The same day, NA deputies are hoping to hear the NA Committee for Science, Technology and Environment present a proposed project to build a 1,570 km expressway that would link Hanoi to Ho Chi Minh City, estimated to cost US$56 billion.
The expressway will have 27 terminals and run through 20 provinces and cities, requiring the relocation of more than 16,000 households, including 7,000 families with farmland, due to be taken over by the State.     
 
Seven bills are expected to pass in this session, on issues including housing and land taxes, child adoption, enforcement of criminal verdicts, postal service, trade arbitration, efficient use of energy, food safety, and disabled people.
The NA is also set to approve two amendments to existing laws that deal with The State Bank of Vietnam and Credit Institutions.
 
Some other bills and amendments are on this session's docket, including an environmental protection tax, administrative procedures, consumers' protection, inspection, and minerals.
 
The NA will hear reports from relevant agencies on the following topics: the management and use of the social insurance fund, the enforcement of gender equity law and the progress achieved by government efforts to reduce poverty.
The NA plans to pass the amendments to Resolution 66/2006/QH11 that addresses national key projects. It also expects to pass a resolution regarding the formation of new laws and ordinances for 2011.
Also among the session's agenda is a proposed master plan to reconstruct Hanoi by 2030. The plan intends to keep Hanoi modernized through the year 2050.