A 60 kilogram soft shell turtle, bred by a local man in Ninh Kieu District in the Mekong Delta City of Can Tho is apparently suffering from an undiagnosed ailment and for the past two months has even stopped eating.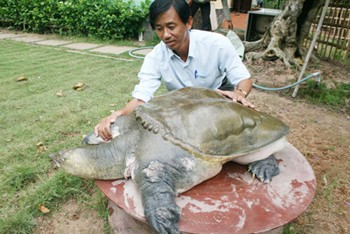 Tan is seeking expert diagnoses for his ailing soft shell turtle (Photo: SGGP)
Breeder Ho Thanh Tan, owner of the Thuy Nguyen coffee shop in the district, said on Thursday that he is looking desperately for an experienced expert to diagnose and treat his pet turtle.
Tan has already invited several veterinary doctors and aquatic experts in the city to diagnose the turtle's ailment, but has had no success.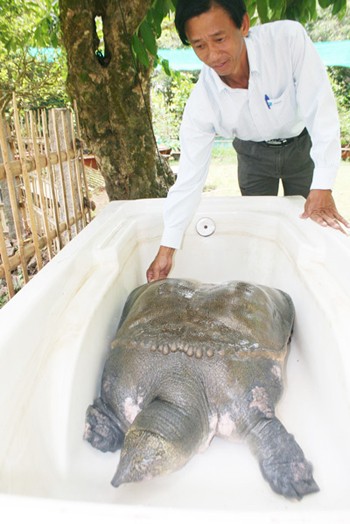 The soft shell turtle has been placed in a bathtub for close observation (Photo: SGGP)
Before falling sick, the 60 kilogram soft shell turtle had a meal of one kilogram of snails and field crabs.
Tan told reporters that he had bought the soft shell turtle from a resident in Long My District of Hau Giang Province in 2003. It weighed 26 kilograms at that time and subsequently increased weight in the last ten years.
This is one of the biggest soft shell turtles to be bred in captivity in the Mekong Delta, said Tan.