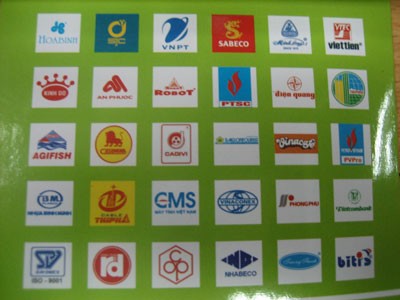 Logos of some Vietnamese enterprises selected in the 2008 National Brand Name
The Ministry of Industry and Trade announced May 26 a list of 43 companies selected to join the National Brand Name Program 2010.
The selected enterprises trade in sectors such as textiles and garments, leather and footwear, financial services, energy and food.
The program, held biennially by the Government, promotes making Vietnamese products competitive in both domestic and international markets.
Additionally, the program encourages exporting industrial processing products and reducing the rate of raw material export, as well as strengthens the name recognition of products made-in Vietnam.
Over 2,000 enterprises registered to join this year's National Brand Name Program.