Chairman of the Phu Hoa district People's Committee Ha Trung Khang on Feb. 9 ordered an temporary end to the search for victims of a coach accident.
The coach 78K – 3704 was driven off Highway 25 into an irrigation canal in Phu Hoa district in the central province of Phu Yen on Feb. 8 with all the passengers. The canal is one of two main waterways as part the Dong Cam irrigation system and supplies water to the Tuy Hoa Plain.
Local authorities and rescue workers had accounted for 35 passengers by Feb. 8 afternoon and discovered no more victims.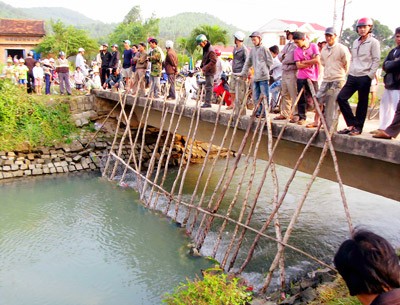 The search for victims of a coach accident
Dong Cam Co Ltd closed irrigation sluice gates in an effort to search for any more bodies. Bus driver Pham Minh Dung, 48, said that between 35-40 passengers had been on the bus when the accident occurred.
Deputy Director of the Phu Hoa Police Huynh Huu Lap, told the Vietnam News Agency that 60 bus tickets had been sold, but passengers disembarked at various bus stops along the route.
Twenty passengers were hospitalised for slight trauma, but only two still under treatment at Phu Yen Hospital . 33 other passengers have returned home. Each passenger received a 500,000 VND (25 USD) allowance from the Phu Hoa authorities.
The remaining passengers were discharged from hospital in good health.