At a presentation ceremony in Hanoi on February 18, President Truong Tan Sang conferred the Ho Chi Minh and State Awards to 32 units and individuals who had successfully conducted scientific projects in 2010.
Previously on February 14, the Ministry of Science and Technology had announced the 32 winners, among 67 nominees, to win the Ho Chi Minh and State Awards for Science and Technology, the highest awards in Vietnam.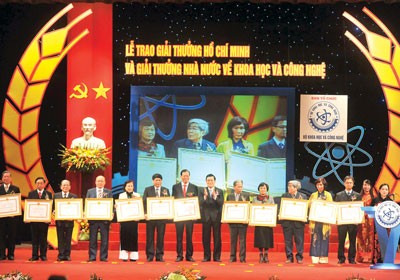 At the ceremony (Photo:SGGP)
The 32 awardees came from the five fields of natural science, social science and humanity, science and technology, agricultural science and medical science.
Twelve of the winners received the Ho Chi Minh Award and VND200 million ($10,000) each, and 20 were presented with the State Award and VND120 million ($6,000) each.
These awards are granted every five years to honour outstanding scientists.
Nguyen Quan, Chairman of the Council of Ho Chi Minh and State Awards for Science and Technology cum Minister of Science and Technology, said that all 32 works were deserving of the awards because they have a long-term and broad influence on our lives and will greatly contribute to Vietnam's development.
Noteworthy winners are "Theories on Party building for a ruling Party" by late Professor Dang Xuan Ky; "Vietnam's Fauna and Flora as well as the country's Red Book and Red List" by a group of 45 researchers; "Nature, territories and geographical zones of Vietnam" by late assistant professor Le Ba Thao; the project that helped to shorten the period of building the Son La hydro power plant by engineer Nguyen Tang Cuong.
Late Prof. Le Tri Vien also received the Ho Chi Minh Award for his research in Vietnam's literary history in its earlier feudal era.
Vu Minh Giang, Vice Chairman of the assessment council, said that many works are highly valued. "There are research works that were implemented over tens of years. Many authors have passed away and they will not be able to receive the award," Prof. Giang said.
Addressing the presentation ceremony, President Sang highlighted the contributions made by Vietnamese scientists. This is the fourth time that Ho Chi Minh and State prizes for science and technology have been awarded which, he said, are highly significant and will help the nation's socio-economic development and construction.
The president said he believes that the scientific community will make even more breakthroughs which will greatly help the country and bring forth Vietnamese people's intellectual potential.
This is the first time that foreign scientists have also been honoured for their participation in prize-winning projects. Three Russian scientists were acknowledged for their research project on exploiting oil in Vietnam's continental shelf.