More than 400,000 domestic and international visitors attended the four day Vietnam Rice Festival 2011, a figure beyond expectations said Nguyen Trung Hieu, Chairman of Soc Trang Province People's Committee.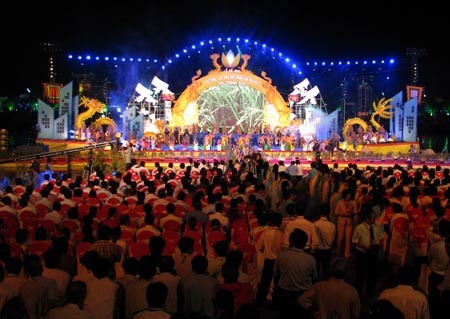 A scene from the Vietnam Rice Festival 2011 (Photo: Dan Tri)
A fair themed, 'Road of Vietnamese Rice', and an exhibition, 'Highlighting Vietnamese Rice and Green environment of Yellow Fields' closed on November 11, showcasing 1,000 booths by domestic and foreign companies.
The festival not only highlights contributions made by scientists, managers, businesses and farmers in rice production, but also promotes development of Vietnamese agriculture, rural areas and farmers towards sustainable and advanced methods, said Vice Chairman of Soc Trang People's Committee, Tran Thanh Nghiep.
The event is expected to help further promote Soc Trang scented rice, which has received trademark recognition from the National Office of Intellectual Property and in both local and international markets.

Provincial chairman Hieu, head of the festival organizing board, said the festival aimed to honor farmers, scientists, managers and entrepreneurs who have promoted and contributed to the country's rice sector.

Soc Trang produced more than 2 million tons of rice a year, ranking fourth in the Delta region, said Hieu.

At the closing ceremony, the Vietnam Guinness Book Center recognized two new Guinness records of 'Road of Vietnamese Rice' a 1.2 kilometer-long Vietnamese map made with rice.
Viet Nam has 4.1 million hectares under rice cultivation, accounting for 44 percent of total arable land, and offering a primary source of income for about 10 million households in rural areas. Rice exports reached a peak of 6.8 million tons last year.