The 28th ASEAN Inter-Parliamentary Assembly (AIPA) concluded in Malaysia on Thursday with 48 adopted resolutions, including two proposed by Viet Nam, and a Joint Communiqué.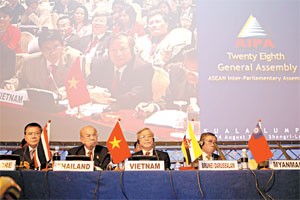 NA Chairman Nguyen Phu Trong (second right) at the 28th AIPA in Malaysia

The Joint Communiqué stressed the role of ASEAN parliamentarians in strengthening the state foundation, protecting the democratic rights of the public, ensuring a close relationship between the state and the people, and calling upon the AIPA to build an ASEAN Community on the basis of a firm foundation, equality, and respect of each other's sovereignty.

AIPA members agreed upon the importance of building the ASEAN Charter, calling for closer collaboration between the legislative and executive bodies of AIPA members in formulating the ASEAN Charter. AIPA members also agreed to include ASEAN Parliaments in the ASEAN Charter as part of the ASEAN Community vision.

AIPA members agreed to harmonize their law systems in a bid to cope with drug and human trafficking, piracy and to boost cooperation in reducing poverty, minimizing environmental pollution, and protecting the rights of women and children.

The 28th General Assembly decided that next AIPA meeting will be held in Singapore in August 2008.

AIPA comprises the parliaments of Cambodia, Indonesia, Malaysia, Laos, the Philippines, Singapore, Thailand and Viet Nam. Brunei and Myanmar are special observers of AIPA.

Australia, Canada, China, the European Union, Japan, New Zealand, Papua New Guinea, Russia, the Republic of Korea and the United States are AIPA observers.

For the occasion, National Assembly Chairman Nguyen Phu Trong, who is in Malaysia to attend the 28th AIPA, visited the Formosa Prosonic Group of Malaysia in Kuala Lumpur.

Chairman Trong, said he was grateful to Managing Director James C.V. Shih for providing excellent working and living conditions for its 250 Vietnamese workers.

On the visit, Chairman Trong visited several workshops and met with a number of Vietnamese workers during their break time. He urged the group to focus on improving their occupational skills in order to be better prepared for their return home.

He took notes of a number of proposals put forward by representatives of the workers, including the State and NA's stricter supervision of labor export companies to ensure that full information on potential workplaces are provided to workers to help them make more informed decisions.

Nguyen Van Son from the midlands province of Phu Tho was satisfied with the working and living conditions at Formosa Prosonic. "The salary is not high but I still save to remit home for my family. I hope that Viet Nam develops fast with a growing number of industrial zones so that I can work close to home when I return to Viet Nam," said the farmer-turned worker.