Two Vietnamese workers were among five people killed when a bridge beam collapsed July 27 at a railway construction site in Uijeongbu in Korea's Gyeonggi Province.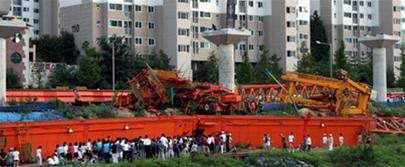 Two Vietnamese were among five people killed in the accident (Photo: Yonhap)
Eight others were injured, including two Vietnamese.
Vietnam News Agency said the Korean police named the two deceased Vietnamese as Nguyen Trong Hoan and Le Huy Dung, both 30.
All the Vietnamese workers are from Hai Duong Province and were recruited to work by Hanoi-based human resources company Sona. The company said it is completing procedures to get the bodies of the two workers home.
The Korea Times said the accident occurred at 7:20 pm when a 30m long, 6m wide bridge beam collapsed at a grade crossing. Construction work began at the site on July 4.