Twelve foreign banks have reached credit contract to lend more than US$1.46 billion to Mong Duong 2 coal-fired power plant in northern Vietnam, the project's operator said Monday.
The lenders are BNP-Paribas, Credit Agricole, HSBC, ING, Mizuho, Natixis, SMBC, Societe Generale, Standard Chartered, Unicredit, CIC of France, and DZ of Germany.
Work on the 1,240-megawatt plant, Mong Duong 2 in Quang Ninh Province, will start this August, operator AES-VCM Mong Duong Power Co. said.

The operator is a partnership of the US-based AES Group, Posco Power Co. of South Korea, and China's CIC Group.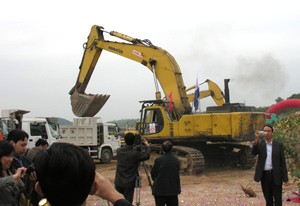 File photo shows the groundbreaking ceremony for thermo power plant Mong Duong 1 in the northern province of Quang Ninh in Nov. 2008
Mong Duong 2, which would be Vietnam's largest private sector power plant, will be developed as a build-operate-transfer project.
The 12 lenders are expected to make the first disbursement for the US$1.95 billion plant next month.
South Korea's Eximbank and the Korea Trade Insurance Corporation would provide commercial guarantees and political risk cover, together with the lenders, said the operator.