Director of Lam Dong General Hospital Nguyen Ba Hy said that health conditions of 11 out of 12 workers rescued from a collapsed tunnel at Da Dang-Da Chomo hydropower plant have completely recovered and were discharged from the hospital at 11:45a.m. today.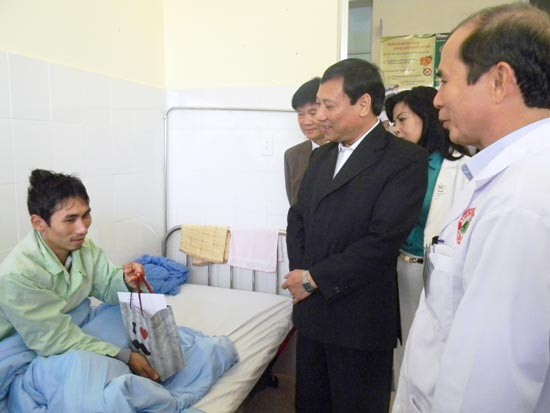 A delegation from the Ministry of Health visits workers at Lam Dong General Hospital in the morning of December 22 (Photo: SGGP)
The sole female worker in the accident Dang Thi Hong Ngoc is still weak and will stay to be treated until she completely regains health.
This morning, a delegation from the Ministry of Health arrived at the Lam Dong Hospital to visit 12 workers.
On behalf of Minister of Health, deputy chief of the ministry office Vo Thanh Dong praised medical forces from Lam Dong and Cho Ray Hospital in Ho Chi Minh City for their efforts in treating and taking care of the 12 workers since they were rescued, and gave each worker VND5 million (US$234).
An unnamed company has assisted the workers with money to buy bus or air tickets to return their hometowns in the quickest and most convenient way, Mr. Hy added.
Related articles:
Rescue of 12 trapped workers: miracle from human being
12 workers rescued safely from collapsed tunnel
Rescuers expected to reach trapped workers in another three days
Around clock operation to rescue 12 workers in collapsed tunnel