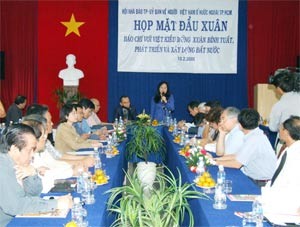 The last year's annual get-together Homeland Spring Gathering
As many as 1,000 overseas Vietnamese will travel to Ha Noi on February 9 to celebrate Tet, announced the Committee for Overseas Vietnamese Affairs (COVA).
The annual get-together, called "Homeland Spring Gathering", will be jointly hosted by COVA, the Fatherland Front Central Committee and Viet Nam Television, said COVA Deputy Chairman Tran Quang Hoan at a press briefing today. Many Vietnamese traditional art performances are scheduled for the gathering.
A similar meeting will also be held in Ho Chi Minh City on February 7, Mr. Hoan added. On this occasion, Ho Chi Minh City will hold a fair featuring an exchange between young overseas Vietnamese and their local counterparts.
Seminars will also be organized to discuss investment and trade between overseas Vietnamese and local businesses in the city, as well as the role of overseas Vietnamese intellectuals and entrepreneurs in Viet Nam's World Trade Organization accession.
COVA is coordinating with customs, tourism, police and the diplomatic corps to facilitate participant's entry into the country. The Overseas Vietnamese Committee in Ho Chi Minh City said it is working closely with customs officers and volunteers at the Ho Chi Minh City-based international Tan Son Nhat airport and other concerned agencies to welcome the visitors upon their arrival at the airport.
Tet begins on February 17.