The Viet Nam Fatherland Front's Central Committee held a gathering in Ha Noi on Monday to mark the 60th anniversary of the National Resistance Day, December 19.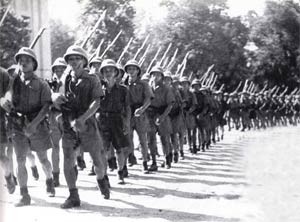 Vietnamese soldiers ready to protect their nation against the French colonists in late 1940s (Filed photo)
In his speech, committee chairman Pham The Duyet mentioned the historical time in 1946 when President Ho Chi Minh called on all Vietnamese people to conduct a national resistance against the French colonists after Viet Nam declared its independence on September 2, 1945.
Mr. Duyet sent his sentiments to General Vo Nguyen Giap, the founder of the Viet Nam People's Army, leaders of armed forces now and in the past, veterans, and all servicemen.
Participants at the gathering included representatives of State agencies and the Ministry of National Defense, high-ranking military officials and representatives of members of the Viet Nam Fatherland Front.