ROME, Sept 2, 2010 (AFP) - Real Madrid coach Jose Mourinho hit out at his club for not backing him in the transfer market and leaving him short up front.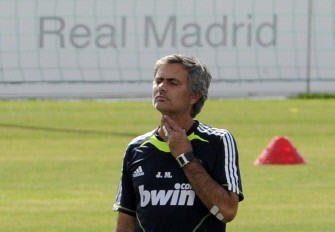 Real Madrid Mourinho gestures during a team's training session at Real Madrid's sport City in Madrid on August 31, 2010. AFP
Despite boasting attacking resources including Cristiano Ronaldo, Kaka, Gonzalo Higuain and Karim Benzema, Mourinho told Thursday's La Gazzetta dello Sport that he wanted more.
"As coaches we're always unsatisfied, we always want more and for that reason I'm with those who ask for new signings," he said.
"Even if each person does it in his own way, some more introverted, others more aggresive.
"At Madrid I wanted another striker, Higuain and Benzema are not enough."
But he admitted that buying players is never easy when in charge of a big team as selling clubs inflate their prices.
What he did get was German midfielders Mesut Ozil and Sami Khedira, and he said he is happy with them.
"Transfer dealings are not easy with Real, if you move a finger a storm breaks out.
"These two are good players, young, and they were in the last year of their contracts.
"We paid 25 million euros (for the pair), that's a competitive price."
Despite the embarrassment of playing riches at his disposal, Mourinho's Real started the season with a 0-0 draw against Real Mallorca and immediately came in for some harsh criticism from the Madridista press.
But that's something he accepts as an occupational hazard.
"This is Madrid and you can't change it. If you can't live with this pressure it's best not to accept (the job).
"At this stage of my career it was the best time for such an experience.
"After Chelsea and Inter Milan, after 10 years of success and big clubs, after a demanding league such as Italy, I have the right age and maturity."
And what he's already realised is that no teams are going to come out and attack his and give them space to get in behind their opponents.
"There's an elementary reality, we're playing against teams that keep things tight and try to hit us on the counter-attack.
"Even in a friendly playing Real is like a World Cup final.
"This summer, to protect a 1-1 draw a coach made four substitutions between the 90th and 94th minutes.
"I have to be prepared tactically for the possibility that we lose the ball and we get jeered.
"And then find some solutions to open up closed defences."
The former Chelsea, Inter and Porto boss also took the opportunity to weigh into the goalline technology debate, proving in favour.
But he says first and foremost, players have to stop cheating.
Last year in the Champions League semi-final, second-leg away to Barcelona, and with Inter protecting a 3-1 first-leg lead, he had Thiago Motta sent-off after some blatant simulation by Sergio Busquets.
After challenging Motta for the ball, Busquets crumpled to the ground clutching his face and writhing in apparent agony, only to be caught on TV cameras taking a sneaky peak through his fingers to check if his play-acting had worked.
It did, Motta was dismissed for an alleged elbow but Inter still held on to reach the final, playing an hour with 10 men.
"The most important technology is the collaboration between players and referees so we can stamp out dives such as Busquets' with Thiago Motta.
"And then it's impossible not to introduce goalline technology, it's elementary, basic and avoids injustices.
"As for other things such as offsides, that's a discussion for our children."