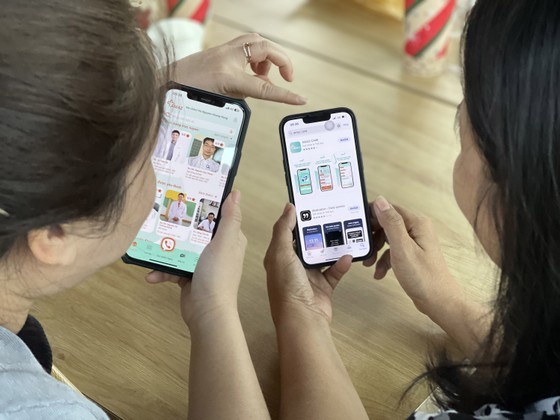 More Vietnamese people use medical applications
The number of medical applications such as eNcounter, eDoctor, Miss AI Medical, and DrCare has increased rapidly in recent years providing more medical services namely consulting doctors, booking medical examinations and treatment, and buying medical equipment and medicines.
Coming home from work, Ms. Thanh Nhan in Ho Chi Minh City's District 5 immediately used her smartphone to open the eDoctor application as her child was experiencing a fever. After a few minutes, Ms. Nhan was able to make an appointment with a doctor at a clinic near her home.
Elsewhere in the city, Mr. Hoang Nhan in District 8 felt short of breath after returning from exercise, immediately opening the DrCare application to contact a familiar doctor for consultation. People use medical applications in a convenient and timely way to consult their health status as well as find medical examination places when needed.
In medical applications, eDoctor - an application to monitor and improve health at home, helping users save costs with preferential examination packages. This application connects directly with doctors, helping users look up drugs through names or images meanwhile with the AMAZ Care application, users can talk to doctors anytime, anywhere, choose a specialty, and book an appropriate appointment.
The eDoctor and AMAZ Care applications also fully integrate features and support tools for managing patient records, registering for medical examination and treatment services, managing prescriptions and revenue and expenditure.
Miss AI Medical application is the first healthcare support application in Vietnam using advanced technology platforms including artificial intelligence (AI), machine learning (ML), data Big data (Big Data), natural language (NLP), graphics (3D) to make the fastest interaction and connection with medical teams.
Most medical applications are considered easy to install and use on smartphones, bringing convenience to users. A representative of the Ho Chi Minh City Department of Science and Technology said that over the past time, the southern largest city has had many programs to promote the development of technology applications in the medical field. Digital health platforms focus on building information systems to serve management, medical examination and treatment activities, and create favorable conditions to take care of patients' health.
According to the Ministry of Health, the development of medical applications is part of digital transformation in the health sector according to the Prime Minister's Decision No. 749/QD-TTg dated June 3, 2020 on approving the national digital transformation program to 2025, orientation to 2030. In addition to the role of state management agencies, technology enterprises have made an important contribution to taking care of people.