Deputy Prime Minister Hoang Trung Hai asked the Ministry of Investment and Planning yesterday to aggressively demolish industrial zones which are not operating effectively or facing difficulty in attracting investment.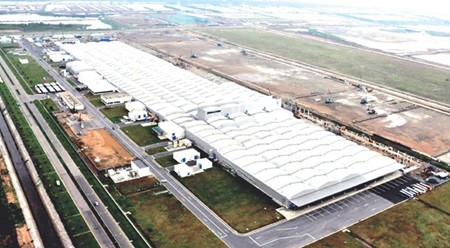 An overview of Dinh Vu Industrial Zone in the northern city of Hai Phong. Ineffective industrial zones will be demolished, Deputy Prime Minister Hoang Trung Hai said yesterday (Photo: VNA/VNS)
Hai made the request at a meeting between the Steering Committee on Development of Economic Zones and Industrial Zones, and management boards of local economic zones (EZs) and industrial parks (IPs) held in Ha Noi.
He asked the ministry to co-operate with localities to re-examine and adjust plans, and make a proper report to the Government. He advised that investment projects should be assigned or relocated to areas where proper infrastructure is already available.
Hai noted that the industrial zones were developed in mass, leading many to be ill-managed, unnecessary and riddled with halfway developed infrastructures.
Only 212 of the 295 IPs established across the nation are operational.
Deputy Prime Minister Hai also revealed dissatisfaction with the manner in which EZ and IP development is being financed.
Hai noted that supporting resources should be more focused and encouraged engaging more social investment in such projects.
The Steering Committee's report, however, still highlights recent successes, citing the US$14.7 billion in investment recently committed to 752 new IP and EZ projects.
By the end of 2014, EZs and IPs nationwide attracted more than 5,500 foreign direct investment projects and the total registered capital of US$85.5 billion, 59 per cent of which was disbursed.
The total revenue EZs and IPs pulled in last year was $118 billion, an 18 per cent increase over 2013. The import-export turnover was $73.4 billion, a 43 per cent increase on the year.
Trade surplus from enterprises in EZs and IPs in 2014 was $5.8 billion, contributing VND87 trillion (approximately $4 billion) to the State budget. These enterprises are also responsible for providing jobs to 2.4 million workers.