UK-based PA Sport, a world leading sports news provider, has awarded Vietnamese company MSS the sole license to provide English Premier League and EUFA Champions League live data on the local company's SMS services in Viet Nam.
The two companies announced their partnership at a press conference in Ho Chi Minh City on Friday.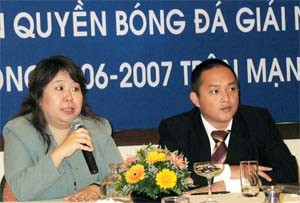 PA Sport's Ong-Morrison (L) and Phan Cong Thanh of MSS are excited about their partnership (Photo: Tuong Thuy)
MSS general director Phan Cong Thanh said the license enables his company to resell the service to third-party telecom operators and mobile value-added content providers in Viet Nam.
"Companies in Viet Nam who wish to provide English Premier League and EUFA Champions League live data must apply for license through MSS," said Mr Thanh, who had worked at the Technology Office for T-Mobile International AG & Co. before joining MSS.
PA Sport is the official live data partner of the EPL and has the sole right to collect live data for every EPL match, supplying information as it happens to the company's UK-based operation center for worldwide distribution, said Ms. Mimmie Ong-Morrison, PA Sport commercial manager in Singapore and Malaysia.
Live data provided in Viet Nam by MSS contains statistics during the match such as team line-ups, name and time of scorers, type of goal like penalty or own goal, half-time score, full-time score, substitutions, yellow and red cards, and extra time. Customers will also be able to receive detailed and up-to-date team information like player profiles.
PA Sport's Ong-Morrison stressed that for both her company and MSS, licensed live data on mobile phones "is a key focus and we are excited to be working so closely together."

MSS, a supplier for mobile value added services, was set up in March 2006 and co-invested by IDG Ventures Vietnam. IDG Ventures is a global venture capital firm with more than US $1 billion under management and a portfolio of over 125 companies. The firm's limited partner, International Data Group (IDG), is the world's largest IT media, research, and event company.

Related links
PA Sport

MSS