In response to the regulations of the Government and the State Bank of Vietnam on supporting companies, local banks have pledged to provide loans with preferential interest rates to exporters.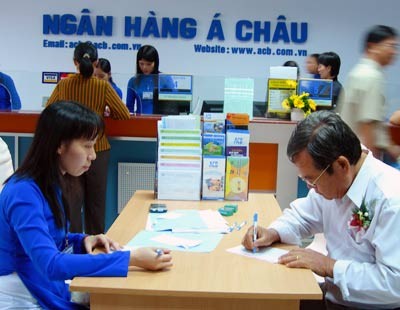 Transaction conducted at an Asia Commercial Bank branch in Ho Chi Minh City
Asia Commercial Bank (ACB) will give loans of up to US$150 million at softer rates to exporters to buy materials for making exported goods.

To access the loans, companies must have letter of credit (L/C), documents against payment (D/P) or bank payment guarantees.

Besides preferential loan interest rates, companies can also enjoy preferences on other services.

Companies that import essential goods and materials for production and business are also eligible for the program.

Vietnam International Commercial Bank (VIB) has also promised to provide low-interest loans of total VND1.5 trillion (US$79 million) to woodwork exporters.

When importing materials for making woodwork, exporters will enjoy flexible deposit rates for opening L/C, and many preferences on other services such as viewing balances, performing banking transactions and opening L/C online through the bank's Internet Banking service.