Vietnam's young citizens are becoming increasingly upwardly mobile, yet few have lost sight of what's most important in life – helping others.
On the occasion of Youth Month in March, Sai Gon Giai Phong profiles some shining examples of young philanthropists from around the country.
Fostering a sense of community
Dang Ngoc Lien, an electricity company employee, decided to quite his job in Ho Chi Minh City and return to his hometown in the south-central coastal province of Quang Nam to help improve the lives of young people.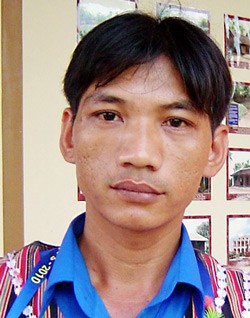 Dang Ngoc Lien
Many who knew Lien were surprised that he would leave a stable job and salary in HCMC, while some even suggested that perhaps he had run into trouble in the city.
Ignoring the rumors, Lien began meeting with young people in his hometown of Phuoc Hoa commune, by helping them do business.
The commune is very poor and Communist Youth Union activities are disconnected and scattered in the region, said Lien.
Thus, he decided to take matters into his own hands and increase the number of meetings with young people from the local union from one to five times per month.
Lien knew many young people wanted to invest in starting up their own businesses, but they lacked the capital. So he decided to ask the local People's Committee and bank to set up special accounts for young people.
In addition, he persuaded his parents to mortgage their house in order to loan more money to the community's youth.
Lien was successful in his endeavors and as a result, many young people are now borrowing capital to raise cows.
His actions have helped local youth improve their lives and have brought the community closer as a result.
Promoting peace through example
Sam Thi Hoa from northern Lao Cai province, meanwhile, is one of this year's 79 outstanding secretaries of the Ho Chi Minh Communist Youth Union.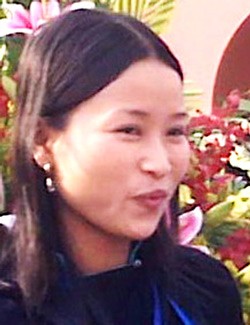 Sam Thi Hoa
She has been a member of the local union for seven years now.
Hoa said 80 percent of the population in Khanh Yen Trung commune, Van Ban District, Lao Cai Province are Tay ethnic people, while the remainder are Kinh people.
She said youth from the two groups often fought over territory, and she felt compelled to help the residents work out solutions.
Hoa began organizing Youth Union activities in the area and told the groups stories about the moral examples set by late President Ho Chi Minh. 
Results have been positive so far, said Hoa, who has also organized a movement to help young people do business and improve their lives.
Through her efforts, Hoa has brought the two communities closer together and has fostered several business partnerships.
Redemption through helping others
Vo Thi Truc Linh dropped out of school at an early age. She made many mistakes when she was young, and wound up in a drug rehabilitation center for several years.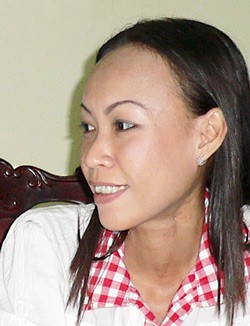 Vo Thi Truc Linh
During her time there, she saw many people the same age as her die from HIV/AIDS. The experience made Linh realize the value of life and she resolved to take action to redeem her past mistakes.
After completing her rehabilitation program, Linh volunteered to become an educator in the Community Support Department of Ho Chi Minh City's District 5 Preventive Health Center.
She now travels throughout the city, talking to drug addicts on the street about how to prevent HIV/AIDS.
In addition, Linh also distributes condoms, clean needles, and pamphlets on HIV/AIDS prevention.
She also visits HIV/AIDS patients in their homes and advises family members on how to care for them.