At Fruit Fair 2008, the wood sculpture pavilion received a lot of attention. Thirty out of 40 works displayed were made by Nguyen Van Ba, a craftsman whose nickname is Ba Binh An. Ba lives in Nhon Thanh Commune in the Mekong delta province of Ben Tre.
Infusing new life to a dried stump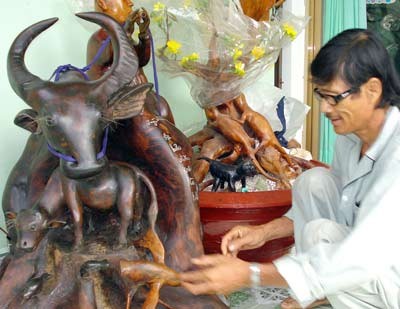 Mr. Nguyen Van Ba is making his works
On entering the yard Ba's house, one sees ugly lumpy stumps lying around worker Ba Binh An stands beside a big stump more than three meters high with its bark peeled, ready to be carved into any of various animals.
"This tree is more than 80 years old," he said. "It had to be cut down when the My Thanh An Embankment was built. I bought the stump and a part of the trunk for VND 70,000 (US$4.20). I chose the subject 'Promised Land' for this work."
Then he took me closer to the stump and explained, "I have to identify the subject of each work in advance so I can focus when carving it. For the work 'Promised Land', the trunk has many advantages that allow birds to create nests as well as birds inside them. Outside twigs and the stump are for additional animals."
Ba has worked on it for 20 days and expects it to be finished in about a month. But I somehow was able to imagine the idea he wished to convey.
There is a carving of a mother buffalo and its calf, with a little boy on it playing a flute and storks searching for food nearby. It is named "My childhood hometown" and is made from a stump that is more than a year old. Ba's friend, who lives in the commune's third ward, built a new house, and cut down the trees and gave them to Ba. It took him nearly two months to finish that sculpture.
Roots should not be disturbed more than necessary when digging up the root system of a tree, according to the artisan. Stumps with a complex root system looked quite tangled and were 'a thorny problem', yet when solved, became a notable success.
Normally when encountering such a problem, he has to think a lot. Sometimes even after sipping tea, he still could not get a satisfactory idea.
"In the art field, you should make it easy," Ba said. If he is unable to think of a good idea or is under pressure, he usually visits his friends and chats until his mind is at ease and he is able to continue with work. Many times, Ba has suddenly come up with an idea while dozing and had to sit up to sketch it on a stump or trunks to avoid forgetting it.
A hobby that earns money
"I took up this hobby when being a small child," Ba said. Growing up, I became an offshore fisherman and bore the name Ba Binh An. Ba is my name and Binh An was from my two children's names."
After hours of fishing on the sea to earn a living, he frequently looked for shells to assemble into various kinds of animals when coming onshore. To some extent, this hobby satisfied his passion for art helped him relax. After 35 years on the job, he was able to bring up all his children. However, none of them wished to succeed him, so he quit.
He then sold the ship that once went with him everywhere. He used cement to make its miniature version and put in his front yard as a memento of his past. From then, he pursued his hobby to his heart's content. He contacted whoever was cutting down large trees, longan trees, or stereospermum trees.
Some people sold for the price of firewood, others gave the wood away for free. He wrapped the logs up and carried them home. Then he started to infuse a new life to those ugly lumpy unpolished stumps and turned them into artistic works.
In three years, he gave birth to 50 'spiritual children' and his passion grew every day. All the works were lifelike and were given meaningful names. A sculpture of an isolated monkey sitting on a trunk was called 'Loneliness.' An old couple together was named "Fulfilling marital life". A stork not able to eat a fish under its rib was labeled "Disappointment"
For Ba, wood sculpture was not merely an elegant hobby, but is a way to earn money. "A finished work of small size must be around VND 500,000 (US$30) and the highest price can reach to VND 50 million (US$3,000)," Ba said.
At the fair mentioned above, he sold two works: 'Pastoral scene' for VND 2 million (US$120) and 'Mermaid' for VND 700,000 (US$42). In his house, there are certificates of merit from the Ben Tre Decorative Plants Associate and the Ben Tre Province People's Committee for the work he has displayed at fairs.