A martial art master, Nguyen Thu Van, with 51 years of experience has became an idol for many martial arts lovers in France, where she has successfully promoted and developed Vietnamese martial arts.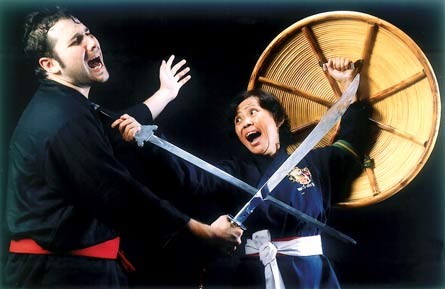 Vietnamese female martial arts master Nguyen Thu Van and her student in a performance (Photo: SGGP)
Master Nguyen Thu Van started her traditional martial arts teaching career in France in 1992 at an invitation by Nguyen Duc Moc, a popular Vietnamese martial arts master in France.  
She accepted the invitation because she expected her trip would offer her opportunities to promote Vietnamese martial arts to foreigners. 
To her, a chance to stay in France also meant a chance for Vietnamese martial arts to gain popularity abroad.  
In the early days in France, Ms. Van met a lot of obstacles.  
The first one came from strength and body size, since the Vietnamese body is quite smaller in comparison to westerners.  
Understanding the obstacle, Ms. Van impressed her students with the very unique moves of Vietnamese martial arts, which can help a small Vietnamese to defeat a foreigner.  
Another major obstacle was the language. Her solution was to use body language in teaching. The martial arts moves are the helpful language of the master and the students. Not only teaching the moves alone, Ms. Van also applied the moves to some plays which allow the students to learn how to practice the martial arts. 
At present, her school, Nguyen Phuong Danh – Thu Van International Martial Arts, already had tens of campuses in Ho Chi Minh, mostly at the pagodas, disability centers, and SOS villages.  
The school has already welcomed two other campuses based in France with over 120 students. Recently, her students from the France-based campuses successfully pocketed nine golden medals from the martial arts competitions in France.  
Recently, Ms. Van finished a month in France with a lot of activities, including teaching and training 120 students at two campuses of her school in France, five days teaching at the campuses of two schools of Twin Dragon Kung Fu and Dragon-Big Tiger of God, which originated in France. 
Other May activities in France were performing at the Antony commune of Paris and being interviewed by the Karate – Boxing newspaper, and telling stories about Uncle Ho on his birthday in Paris held by the Vietnamese Club House.  
Sharing some experiences from the May trip, Ms. Van excitedly said: "I hardly forget a a particular foreign student, Arthur.  
"I met him on the May trip and shared with him some martial arts reference books. One day after coming back to Vietnam, I suddenly met him again right at my door. He had spent three weeks in my school campus in Vietnam. Besides the time in campus, he also spent hours to learn more about the martial arts at my house."  
When SGGP asked her about the future plans, Ms. Van said: "Besides publishing 1,000 issues of the book "Vo thuat ung dung tren san khau – dien anh" (Martial arts used in stage and in cinema), I also finished two other books, "Vo thuat co ban mon phai Nguyen Phuong Danh - Thu Van quoc te vo dao" (General moves from Nguyen Phuong Anh – Thu Van International Martial Arts School) and "Su tuyet dieu cua vo co truyen cho phai nu" (The wonder of the traditional martial arts for female), and will soon publish them in France.  
The books have been translated into English and French.  
Recently, besides being awarded a certificate of merit from the UNESCO Traditional Martial Arts, she was given an award from the World Martial Arts Association for her work in promoting and developing traditional martial arts in Europe.