International exhibitions are starting to take in Vietnamese lacquer art pieces, evidence that the art form is gaining a presence in the global creative community. Lương Thu Hương reports.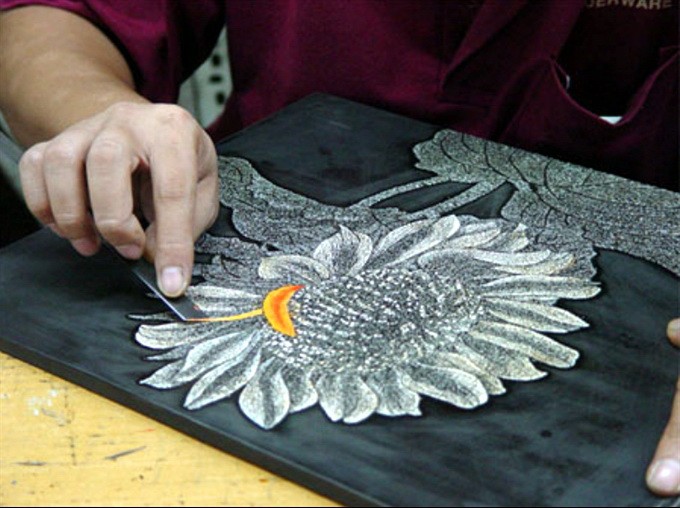 Lacguer painting requires extreme meticulousness and patience

.
Exhibited at gallery 1 of the National Gallery Singapore during the Reframing Modernism exhibition, which kicked off last month, The Fairies, a lacquer painting by Vietnamese artist Nguyễn Gia Trí, caught the attention of visitors due to its large size and impressive colours.
Painted in 1936, the 2.9m by 4.4m painting is one of the largest known lacquer works by Trí, who is considered to be Việt Nam's pioneering artist in integrating lacquer into works of art.
"At the time The Fairies was made, Vietnamese artists were experimenting with how lacquer could be used as a modern painting medium," said Phoebe Scott, a curator at the National Gallery Singapore. "To me, that shows very clearly in this work: even though it would have been so meticulous and painstaking to prepare, it still gives the impression of expressiveness and spontaneity, through the flowing lines and nuanced colours."
Also displayed in the gallery were other lacquer paintings by Vietnamese artists, including Dawn on the Farm by Nguyễn Đức Nùng; Landscape of Việt Nam, also by Nguyễn Gia Trí; and Bờ Market by Nguyễn Văn Tỵ.
These lacquer paintings, which are the perfect combination between the technique and unique traditional material, have received much admiration from both visitors and international art critics.
The increasing appearance of Vietnamese lacquer paintings at international arts events in recent years has confirmed the status and value of this unique form of art among the world's modern arts.
Việt Nam has been the cradle of lacquer painting, which has been renowned worldwide. Lacquer has a long history, as vestiges of lacquer have been found in many decorative items and Buddha statues in many ancient pagodas, such as Dâu Pagoda in the northern province of Bắc Ninh, which was constructed in the 2nd century.
It uses resin extracted from the sơn tree, which is found in the mountains of the northern province of Phú Thọ. The resin is used along with other materials, such as eggshells and mother of pearl, before being processed into a piece of lacquer art.
At present, Huế, the former royal capital, is preserving the largest number of lacquer paintings and ancient works of art. Lacquer seems to be present everywhere in the city, from the architecture of sophisticated buildings, such as temples and pagodas, to objects of everyday use for ordinary families.
Since its early days, lacquer gradually developed from a traditional trade to handicrafts and, ultimately, to a higher artistic form: lacquer painting.
While other Asian countries, such as Korea, China or Japan, mainly consider lacquer to be material for handicraft products, since the early 20th century lacquer has taken up a role in Việt Nam as material for artistic paintings, especially after the establishment of the Fine Arts College, then named the École des Beaux-Arts d'Indochine, in 1925.
According to painter Lương Xuân Đoàn, the vice chairman of the Vietnam Fine Arts Association, French teachers and outstanding students of the college at that time, who were also considered the "golden generations" of Việt Nam's artists, experimented to apply new material, or lacquer, to their works of art.
"The combination between traditional material, the Western classic arts theory and the creativity of renowned painters, such as Nguyễn Gia Trí, Trần Văn Cẩn or Phạm Hậu, created a new face of Việt Nam's arts."
In each period, lacquer has significantly contributed to the development of Việt Nam's fine arts. The dark colours of lacquer, which are mostly comprised of brown and black, have been extended, while the black background of each lacquer painting has been constantly expanded by Vietnamese artists. In a short period of time, the art form has achieved a high status among Việt Nam's modern arts, which is equivalent to that of Western oil paintings.
According to artist Hoàng Quyến, former lecturer at the University of Industrial Fine Art, the unique feature of Việt Nam's lacquer paintings is the harmonious combination among five basic elements: metal, wood, water, fire and earth.
"In lacquer paintings, metal is found in gold and silver leaf, wood in painting boards and resin from sơn trees, water in the water used to polish, fire to fry eggshells and clamshells, and earth in natural minerals, such as earth and stones which are ground and processed to create various colours," he says.
While creating a painting, artists attach layers of eggshells, clamshells and colours which have been mixed with resin onto the wooden board, before applying other layers, such as gold or silver leaf. The work is then kept in a humid atmosphere until it is dried and ready for polishing.
Quyến adds, the polishing phase is also the artist's moment of creativity, as he needs to know those certain parts in the painting that have to be roughly or carefully polished in order to preserve the colours or shapes he wants to keep. At times, such phases might result in surprising effects when colours of eggshells, silver and gold leaves become so brilliant and shine under a mysterious amber light.
Due to the distinctive characteristics of its material, lacquer painting requires extreme meticulousness and patience, explaining why the age of these paintings might be hundreds of years.
"Each painting has its own mysterious beauty hidden in layers of resin, the colours of which are both noble and splendid, but also subtle, like the soul of the Vietnamese," Quyến says.
Since its appearance, Việt Nam's lacquer painting has become increasingly famous and favoured worldwide. Many lacquer paintings of the 20th century have become national masterpieces and art treasures, such as Vườn Xuân Trung Nam Bắc (Central Southern Northern Spring Garden) by Nguyễn Gia Trí or Xuân Hồ Gươm (Sword Lake Spring) by Nguyễn Tư Nghiêm.
Việt Nam's lacquer paintings have also been greatly sought after in many art markets or auctions worldwide. For example, the lacquer painting entitled Trong Vườn (In the Garden) by Nguyễn Gia Trí was the second-most expensive work to be sold at the Larasati Auction in Singapore last year, bringing in over US$99,372. The sales price also set a new world record as the highest price ever paid for any Vietnamese work of art sold at auction.
Next generations
With the aim to preserve and promote the values of Vietnamese lacquer painting – a unique genre of art in the country and the world, several Vietnamese lacquer artists gathered in 2013 to form a group that is dedicated to Vietnamese lacquer painting.
Despite their differences in age, seniority, style and points of view, these lacquer artists share the same passion for the traditional material and the aspiration to confirm unique values of lacquer painting to the world.
Since its establishment, the group has regularly conducted arts events, such as workshops to exchange experiences among members, field trips to lacquer trade villages or conferences with both Vietnamese and international counterparts.
In particular, the group successfully carried out two exhibitions in 2013 and 2014. Their next exhibition is expected to be held in June.
"I have attended many exhibitions of lacquer paintings before, and have been very impressed by those held by groups of Vietnamese lacquer artists," commented Mạnh Hiền. "The young artists have created very impressive and creative works of art."
Vietnamese lacquer painters have been given more opportunities to introduce their works abroad in France, Taiwan, Singapore and Hong Kong.
For example, in 2014 the Việt Nam Fine Arts Museum held an exhibition displaying over 30 works by members of a Vietnamese lacquer artists' group in Moscow and received very positive responses from Russian art critics.
Additionally, in July 2015 Việt Nam's lacquer paintings were displayed for the first time in South Korea, offering a chance for cultural exchanges and future art cooperation between the two countries. Just in the three days after its opening, the event attracted thousands of visitors, which demonstrated the popularity of Việt Nam's unique arts form.
"The exhibition was like a new breeze of art bringing along the mystery and brilliant light of Việt Nam's lacquer. The viewers were moved from surprise to admiration and looked forward to seeing more lacquer works in the future," one international arts critic noted.
According to the group's head, Nguyễn Trường Linh, who has created lacquer paintings for over 25 years, Vietnamese artists have come up with many creative innovations for lacquer works in recent years.
"In the past, the main topics of their paintings were everyday life activities, war or landscapes, such as Tát Nước Đồng Chiêm (Bailing Water out of the Rice Field) by Trần Văn Cẩn or Bình Minh Trên Nông Trang (Dawn on the Farm) by Nguyễn Đức Nùng," he said.
"Due to the lack of materials, their works mainly applied traditional colours like ochre, gold and black, with very few greens and browns. The temporary artists have created more colours for lacquer paintings and additives for the painting process, and demonstrate a variety of temporary topics on their works, which differentiate them from their predecessors," he adds.
A new opportunity to promote Việt Nam's traditional lacquer handicrafts and lacquer painting on an international scale has been opened. Recently, the country received an invitation from South Korea to participate in compiling a multinational dossier, proposing that lacquer be placed on UNESCO's Representative List of the Intangible Cultural Heritage of Humanity.
China and Japan, two nations with age-old and developed traditional lacquer trades, might also join in building the catalogue.
"It would cause pride and happiness to us as lacquer painters if the arts of lacquer is recognized as an intangible cultural heritage of humanity," says Linh.
"It is time to present art lovers around the world with the splendid beauty of Việt Nam's lacquer paintings," he adds.