With her Shop Viet Nam, where the Vietnamese traditional dresses of Ao Dai are on sale, in a 51 storey-building of Sumitomo Group in Shinuku Center, Tokyo, Tong Thi Kim Dinh (Ms) helps to honor Ao Dai in one of the largest and most modern cities in the world.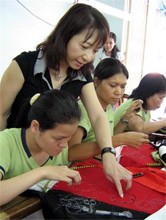 Ms. Kim Dinh (Black, standing).
Born in the ancient capital of Hue, Dinh, now 45, came to Japan with her husband after graduating Hue Medical University in 1987.
Living in Japan, she always wished that one day Ao Dai would be presented in Tokyo and Shop Viet Nam was a dream that she pursued for more than ten years.
After founding Shop Viet Nam in 1997, she came back to her homeland to set up a garment workshop. She designed Ao Dai by herself and chose fabric and colors based on her own standards and Japanese people's tastes.

The first samples of Ao Dai, which were made meticulously, did not attract Japanese women. They did not have much time to pay many visits to the shop to have an Ao Dai tailored for them with their own choices of fabric or design.
The solution to have an Ao Dai made with on ly one visit to the shop is the ready-to-wear products.
She had to use knowledge of anatomy to work out the standard measurements for "made in Shop Viet Nam" Ao Dai to suit Japanese women of different sizes.

Today, hand-embroidered or hand-painted Ao Dai are offered in different sizes and designs to appeal to any visitor to the shop. And famous singer Anna Saeki once came to the shop and bought sets of Ao Dai for her performance.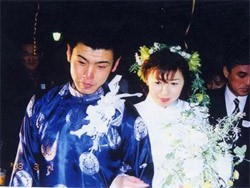 Japanese bride and groom in Ao Dai.
Shop Viet Nam gradually became famous in Japan with the special fashion products of Ao Dai. After a fashion show at the Vietnamese Music Festival in Shiganawa, Tokyo in 2000, the Japanese mass media and well-known TV stations of NHK, TBS, Asahi, and Tokyo praised the Vietnamese traditional dress of Ao Dai in Shop Viet Nam.
Ms Kim Dinh was invited by Ashi Karucha, an organization for Japanese women, to talk about the Vietnamese Ao Dai in February 2005.
Besides, Shop Viet Nam was also invited to the Asian Party Dress Fair, one of the large brand promotional programs of Seibu Tokyo Commercial Center in February 2002, which was a milestone for the development of Shop Vietnam as Ao Dai was introduced for the first time to the well-off Japanese.
Now, Shop Viet Nam's Ao Dai, also known as Sivini, becomes a familiar brand in Japan. About 90 percent of its customers are Japanese, and the rest are westerners.
To Kim Dinh, Ao Dai is a work of arts, not just a product. And Shop Viet Nam owns its success to the contribution of the workers in Viet Nam. Toghether, they have helped honore Ao Dai in the world.