President Nguyen Minh Triet has signed a decision granting the title Hero of Labor to Trinh Van Y (Trinh Mai Son), chairman of the Ben Tre Science & Technique Association of Bridge and Road for his outstanding achievements and contributions to the Fatherland.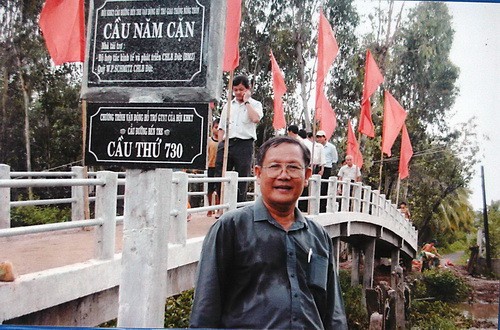 Mr. Trinh Van Y stands beside the 730th bridge he raised funds to rebuild. (Photo: Tuoi Tre)
Mr. Trinh Van Y, former deputy chairman of the Ben Tre Province People' Committee, retired in 2001. He then began visiting his former war comrades around the country and along his trips observed many rural roads which were badly damaged and in need of repair.
It was then that he began soliciting donations from citizens and charity organizations to build improved bridges and roads in rural areas.
From 2003-2008, the association raised a total of VND8.5 billion in donations to build and upgrade 700 bridges and 75 km of rural roads.
The funds also helped to remove 624 degraded bridges and upgraded 42 unsafe ferry stations used by hundreds of thousands of people.
To date, the hore has now mobilized funds to build and upgrade a total of 900 bridges and 102 km of rural roads linking nine districts in Ben Tre Province, contributing to the country's socio-economic development.