For 25 years, Ms. Le Thi Thuy Ngoc, currently a teacher at Junior School Ngo Tat To in Phu Nhuan District, has fought against the effects of agent orange. She was exposed to Agent Orange when she volunteered to teach at a school in Tan Bien in the Tay Ninh southern province in 1976.
A silent struggle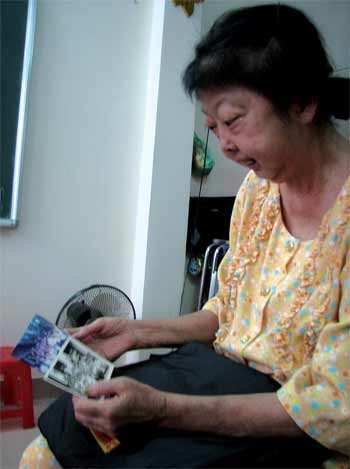 Teacher Ngoc with badly deformed face looks at pictures of her students in the old time
Her days begin by taking 18 bitter pills and a similar quantity in the evening. She has to sit still on her bed, taking each one with difficultly.

Ngoc then endures an injection and her wounds have to be cleaned and dressed. They are subjected to bacteria infections which could leave a strong woman in a coma.
Nurse Tuyen from the Department of Endocrine at Nhan Dan Gia Dinh Hospital, who administers clean dressings to Ngoc's wounds, was in shock when she saw her wounds.
Nurse Tuyen has huge admiration for Ngoc as she has deep and open wounds but she has never heard her patient moaning.
Ngoc has to limp to the entrance of her alley where a familiar motorbike taxi rider Mi takes her to school. However, he refuses to take money despite the long journey from her house to the Junior School, Ngo Tat To, because he says, "Teacher Ngoc is poor and she suffers serious illness for years."

Her daily duties include household chores, arranging toilet paper for her mother and cleaning out the chamber pot.
In times of better health she used to tutor poor students at home without payment.
A faith never dies
She volunteered to work at a junior school in Tan Bien in the Tay Ninh southern province after graduation in 1976. One of her colleagues Mr. Bay died of a strange disease and tragedy struck her in 1982 as she fell ill.
Since then, she has been to many different hospitals for treatment. She has been on an intravenous saline drip daily and has had to have oxygen given to her to help her breath. Ngoc's face and body have become badly deformed.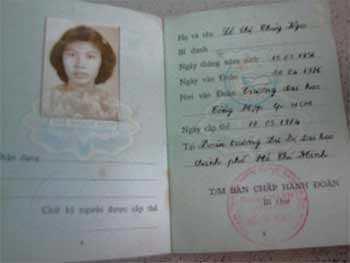 She looks beautiful and young at the time she went to Tay Ninh
Following bone marrow tests doctors, at Nguyen Tri Phuong hospital, have determined that her illness is linked to agent orange dioxins.
Despite her unbearable pain, she has managed to embroider pillow-cases as a gift for doctors and nurses.
Her health deteriorated further following foot surgery in 2006. After being discharged from hospital, she persisted in walking although doctors warned that she could not do so anymore.
She had a resultant fall breaking her leg. Doctors had to insert screws to help her leg to heal a consequence of which is that Ngoc has to walk with a limp.
Illness does not stop her love for teaching. She always stands when delivering her classes despite the pain this causes her. She believes that if a teacher stands when giving her class students remain more interested in it.
Looking at her face, she seems likely to cry as her eyes fill with tears but Ngoc says she has not cried even one tear in many years. She stands proud to be a winner each day.