Bom Bo locates in Binh Minh commune, Bu Dang district in the southern province of Binh Phuoc.

Since days fighting against the US, Bom Bo has been known for the song "Tieng chay tren soc Bom Bo" (the sound of rice-pounding pestle in Bom Bo hamlet) by late musician Xuan Hong.
Sai Gon Giai Phong reporters have visited Bom Bo in days near Tet holidays. The tarmacked road leading to the hamlet run through hills green with coffee, cashew and other fruit trees. New houses and villages have gradually been built to replace simple houses on stilts.
Bom Bo is now home to 377 households with 1,805 ethnic minority people. Of these, 193 households comprising 972 S'Tieng ethnic minority people. In the evening, there is neither sounds of rice-pounding pestles nor light of bamboo torches as in the song. The national electricity grid has reached each house. The communal center project, Program 135 for socio-economic development in specially-disadvantaged communes in ethnic minority and mountainous launched 20 years ago by the government, crop plant structure and production method changes have arrived in the hamlet.
Village patriarch Dieu Len is one of witnesses for the hamlet's rise and fall from the war time until now. Born in a S'Tieng family rich in revolutionary tradition, he became a contact boy at the age of 15 to receive and send letters for revolutionary officials in the area. Less than 20 years old, he joined the army and attended over 40 battles in the fight against American invaders and achieved feats for many times. The state has awarded him with valiant man title.
Leaving guns, he returned to normal life and collected objects associating with Bom Bo, stories about those who have brought fame to the hamlet.
He expressed happiness seeing the cultural preservation site of S'Tieng ethnic minority group built by the central government and the province to preserve and promote traditional cultural values of S'Tieng people in Binh Phuoc province.
The site is the place for residents in the hamlet to preserve brocade weaving and production of Ruou Can (wine drunk out of a jar through pipes), bamboo and rattan knitting and other handmade products as well as cultural types such as Gong dances, new rice ceremony and buffalo fighting festival.
According to Mr. Vu Duc Hoang, deputy head of the Propaganda and Education Department under Bu Dang district Party Committee, it is important to raise the position of the cultural preservation site in tradition education, cultural exchange among regions and ethnic minority groups.
Hence, the policy of building the site into a complex of architectural works will create a premise for implementation of other sub projects. In parallel with the sites' construction, the district has focused on stabilizing cultural life, creating jobs and improving the living conditions of people in resettlement areas.
Moreover, the district has collected and preserved Gongs, S'Tieng folk songs, Dan da (Lithophone) and other types of native musical instrument and opened instrumental classes.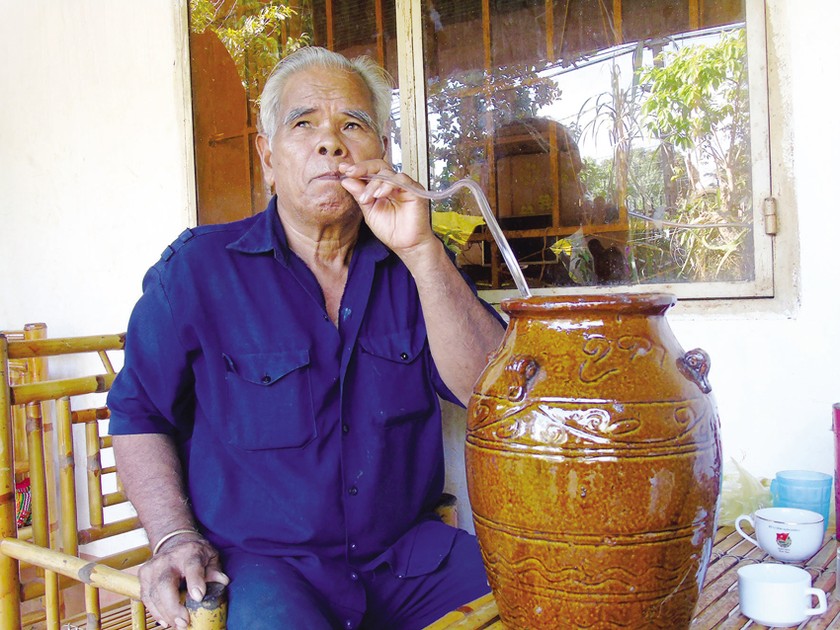 Village patriarch Dieu Len is one of witnesses for Bom Bo hamlet's rise and fall
Mr. Dieu Coc, tour guide in the preservation site, said that S'Tieng people in Bom Bon still keep their traditional cultural characters through folk songs and traditional dances.
Development of Bom Bo into a cultural historical relic site is a meaningful project to the S'Tieng, contributing in upholding revolutionary tradition, serving socioeconomic and tourist targets in Binh Phuoc province.
Chairman of Bu Dang district People's Committee Nguyen Thanh Binh said that the district is striving to boost investment in material infrastructure, construction of sub-projects in the preservation site as well as equipment and devices for the site's operation.
The district has implemented the preferential policy to artists attending cultural activities according to the provincial People's Committee decision, given priority to training and using the staff of cultural cadres who are ethnic minority people and ensured treatment mechanisms for them to return to work in the province.