To mark Ireland's National Day and Saint Patrick's Day today, Viet Nam News presents an article written by Ireland's Ambassador to Viet Nam, Damien Cole.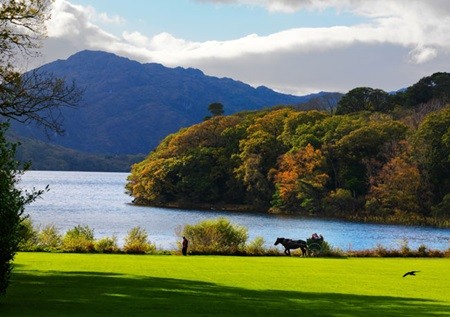 Picturesque: The Lakes of Killarney are a renowned scenic attraction in Ireland. — Photo courtesy of Tourism Ireland
I am delighted to have the op-portunity to mark St. Patrick's Day with the readers of Viet Nam News. Every year on March 17, Ireland and the Irish people celebrate their national day. There are up to 70 million people around the world who claim Irish ancestry and heritage.
This year, 2015, is an important year for Ireland as it marks a further step in our process of national recovery after the economic downturn in 2008. The turnaround in Ireland's fortunes over the past four years has been remarkable.
The economy grew by 5 per cent in 2014 and growth of 4 per cent is expected in 2015, the highest growth rates in the EU in both years.
Our public finances are now on a stable and sustainable footing. Trade has been the key driver of our economic recovery. The importance of Ireland's relationships with its Asian partners, in particular Viet Nam, has never been more evident. Bilaterally, our trade with Viet Nam has increased steadily, up 12 per cent on latest figures.
There are a number of Vietnamese sectors with real potential for strong growth – and where there has been increasing interest from Irish companies. These include food and beverages, aviation services, and education services.
Education and training is a vital component of Ireland's knowledge-based economy. Ireland, a destination for international students, provides an excellent quality of education in a safe, English-speaking environment.
Increasing numbers of students from Viet Nam are choosing to study in Ireland, and we are focused on building educational links between the two countries.
Ireland remains committed to our programme of development co-operation. The Irish Aid programme is administered through the Embassy of Ireland in Ha Noi.
Our strategy for bilateral development assistance to Viet Nam and the region commits Irish Aid's resources to targeting and benefiting the poorest and most vulnerable sections of society.
Tackling poverty and hunger in the ethnic minority communities in the remote areas of Viet Nam is a key focus of our work.
The poverty reduction programme is focused on the provinces of Cao Bang, Dien Bien, Bac Kan, Ha Giang, Thanh Hoa, Kontum, Quang Ngai, Quang Tri and Tra Vinh.
In 2015, we will develop the next phase of our development co-operation programme in partnership with the Government of Viet Nam.
Our friendship with Viet Nam continues to strengthen as we move into the Year of the Goat.