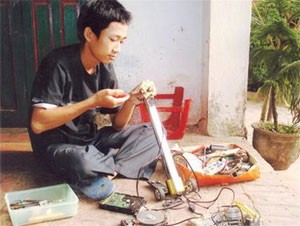 Engaging in making robot: Teenage robot maker Nguyen Manh Chinh
There is a village boy from the northern province of Phu Tho, who has defeated more than 200 other competitors to pick up the first prize of a nationwide creative technology contest for teens. His name is Nguyen Manh Chinh, nicknamed Chinh Robot.
His brainchild dubbed "Robot made from clock" is a 4-wheel robot which can pick up items and deliver by a controlling board. It was made from parts of a broken clock and some things Chinh found at junk shops.
He is an eleventh grader at Tam Nong Senior High School. Though his school is tens of kilometers from his house, Chinh rode school everyday and was never late.
Asides from studying physics and chemistry, Chinh Robot engages in fixing and inspecting machines.
Chinh's father often got angry when finding his boy disassembling home appliances like TV, radio, fan and watch even they were not broken. Chinh Robot also visited junk shops to scour scrap metals. 
One night, he saw the announcement of the creative teenage contest on TV, so he asked his dad to register his hand-made robot for the contest. His dad, a farmer who had no idea about science, agreed to help him.
And the "Robot made from clock" of Chinh Robot with good performance easily won the best marks of the jury to be the best robot of the contest.
This was not the first time the teenage robot maker achieved the first prize of a robot contest.
Chinh was top at the Youth Creativity contest held in his school with his "Boat of Environment Protection" when he was a tenth grader.
For the present, Chinh are studying hard to enter the prestigious Ha Noi University of Technology to pursue his dream of making robots.