The stony plateau of Dong Van in Ha Giang Province used to be a rather forbidding place, one where every drop of water was precious, where taking a bath or washing clothes was never even thought of. Yet the inhabitants put up with the scarcity of water every dry season. Some even thought of it as God's punishment. Then one day, like magic, water began to flow freely.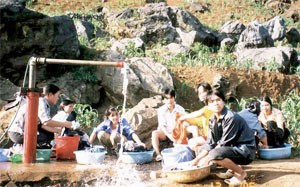 Dong Van District residents rejoice as they are supplied with abundant fresh water for the first time.
The transformation of Dong Van occurred in the middle of 2005, when geologists from the Association of Geological Science and Tourism explored the area and drilled three wells into the stony ground.
 
There had been plenty of exploration and drilling before, and tons of money spent on finding underground reservoirs of water, but to no avail. This time the geologists struck pay dirt.
 
It was a watershed event for the human inhabitants. They came to the wells to bathe, wash their clothes and fill their water containers. The farmers could grow maize all year round and no longer had to wait for the wet season before planting.
 
Each well put out 150 cubic meters of water per day, which meant 450 cubic meters a day for 860 households in Dong Van District, which lies about 1,000 meters above sea level.
 
For the geologists, it was their greatest achievement in ten years of surveying and exploring for water in Viet Nam. Their success gave a real boost to the local economy.
 
Fetching water used to be a major part of life for the inhabitants of Dong Van District. Two people from every family would walk tens of kilometers to drain water from chinks in the stones and bring it back home.
 
The little water they retrieved would be sparingly used for cooking, drinking, brushing the teeth and washing the face. No way could there be any bathing or laundry.
 
The geologists had an exhausting time of it too, and expensive. Traveling around Dong Van could be difficult in the extreme because of all the stones and rocky outcrops.
In order to move equipment, machines and drillers from one valley to the next, they often had to blast the rocks before they could clear a road; at other times they would shift the equipment with levers and rollers.
 
They camped in tents on fields where the weather was bracing and there was next to no water, sometimes too little even to operate the drilling gear, and fresh supplies of the precious liquid were frequently trucked in.
 
In the past ten years, the geologists have sunk more than 100 successful wells to provide fresh water to Vietnamese villagers. They have also done important work for the military.