Miet Hau Giang (Hau Giang countryside) lies at the extreme southern tip on the map of Vietnam and is the old name of the land from the left bank of the Mekong River to the southern tip of Ca Mau province.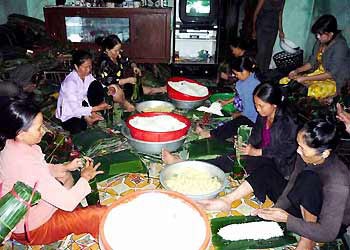 Women making traditional Tet Cake to worship ancestors during Tet (Photo: VnExpress)
Tet celebrations in Hau Giang have an indigenous quality about them.  Local residents living along the canal in makeshift houses made from coconut leaf begin preparations few months ahead of Tet. They start breeding chickens, growing ornamental plants and flowers and stacking firewood for cooking.
Each year on the twenty third day of the twelfth lunar month, just before Chinese New Year, they prepare a feast for the Chicken God who they believe returns to Heaven to report all activities of every household. During this time people put on hold all work in their fields to concentrate solely on preparing for the coming Tet.
First they clean, tidy up and decorate their homes. They then pray for more prosperity and focus on decorating their altars.
People catch fish from ponds to dry and then use later for preparing delicacies to have during Tet. Any surplus fish is later sold in the market to cover for their Tet expenses. The only products they buy from the market are those that they cannot produce or make themselves, like clothes, shoes and incense.
Usually after the 25th day of lunar December, people start preparing strings, banana leaves, green beans and glutinous rice for making Tet Cake.

Groups of five to seven elderly women come together and visit each home to help prepare Tet Cake, a traditional long-shaped cake that is the main food for worship of ancestors for the southern people during the Lunar New Year.
Cooking Tet Cake could be a full night event. Around the outdoor cooking fire of each family, an old woman is often found keeping awake well into the night telling old stories to children lying on a nearby mat, while the cake is condensing in the pot.
Besides Tet Cake, the women in Hau Giang make a variety of other cakes as well. Young girls get together to help each other make cakes and jams for Tet. They bring ingredients and cooking pots from their homes to make coconut toffee, apple custard and tomato jams and bake sponge cakes, cup cakes and pancakes.
Making Tet cake is a tradition for hundreds of years in Hau Giang. Women here can make a variety of cakes and also teach their daughters this wonderful legacy.
On the 28th day of lunar December, some households slaughter a pig to have pork for Tet. They have pig tripe soup at midnight and the following dawn they share pork with other households.
The pork is used to make stuffing for the Tet Cake and the most popular is the Chinese braised pork.
On the 29th day of lunar December people devote all their time to decorating their altars. Each family places on their alters an offering of different kinds of cakes or fruits picked from their garden like coconuts, custard apple and banana.
Hau Giang people believe that if they offer more cakes and fruits to their ancestors the more prosperous their family will become during the course of the year.
The final day of the lunar year is the most festive and vibrant with activity. Each household welcomes the New Year by preparing a feast, worshiping their ancestors and entertaining relatives and visitors.
Guests are those living in the same hamlet and they usually gather in groups to visit each home in a procession which is accompanied and followed by a lion dancing performance and amateur singers singing southern traditional songs. The little hamlet comes alive until midnight.
When people return home they bathe and wear new clothes, lay out cakes and jams on the table, burn incense on the altar and greet each other and seek the blessings of grandparents.
Miet Hau Giang is now a modern developed province with spacious homes and many facilities. However when Tet arrives tradition rules, bringing in nostalgic home-made flavors and the time old festivities of making cakes, worshiping ancestors and greeting neighbors, relatives and friends for a prosperous new year.