With an indulgent face and his hair in the traditional bui toc style (hair tied in a knot at the nape) and wearing a long white beard, the violinist looks a little like a fairy. He sits under the shade of a big tree in the park playing his old violin. Passers-by are not only attracted by his appearance but also by the melodious sound generated from his musical instrument.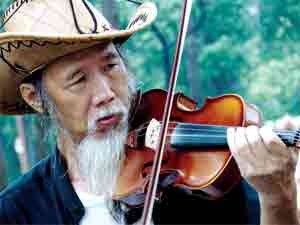 Violonist Ta Chi Hai
Born in 1940 in Hang Dieu Street, Hanoi, Ta Chi Hai learned to play the violin, harmonica and mandolin by himself when he was 18. He said, "I can play these instruments skillfully without attending any classes. It's probably because I was born into a musically gifted family."

Hai in fact has a great passion for music. He recalled, "In 1972, Hanoi was fiercely bombed by B52 air planes for 12 days in a row. As young soldiers, I and my comrades shot back bravely. Those were the most anxious days we had ever experienced in our lives, I could say. But when the bombing was over, I played the violin again. Music helped me get through the chaos of war with high hopes."

Every day, Hai plays music in April 30 Park or in Tao Dan Park in the morning. In late afternoon, he chooses a place under a large tree in the September 29 Park as his outdoor stage.

On weekends, Hai, however, goes to the park earlier than usual. After spreading a newspaper under the tree and sitting on it, Hai takes out the harmonica from his pocket and plays some pieces of music while waiting for his fans, who are mostly local students and foreigners, to come and join him.

A 'music festival' shortly afterward takes place on the green grass under the tree. Listeners let their souls fly high with the music.

For local students, Hai plays songs full of revolutionary ardor which had been sung aloud on the streets of Saigon by thousands of high school and university students who took part in anti-government and anti-American demonstrations before 1975, like 'Len Duong' (Start Out), 'Tien ve Sai Gon' (Advance toward Saigon) or 'Day Ma Di' (Get up to Go).

Hai stirs a young Russian woman's heart by playing the love song 'Kachiusa' for her. For those who leave Hanoi for Saigon to earn a living, Hai willingly plays 'Huong Ve Ha Noi' (Thinking of Ha Noi) as gift to them.

After finishing his performance, Hai always receives tremendous ovation from his fans and the musical festival is soon transformed into a foreign language speaking club.

Hoang Phong, a student of the HCMC Social Sciences and Humanities, said, "I usually come to the park to practice speaking English with foreigners and am attracted by Hai's professional playing style. Since Hai can speak English and French fluently, foreigners come to the park not only because they wish to enjoy the music but also because they want speak to him. It's really interesting to exchange views with Hai about music and life."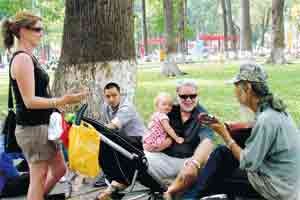 Hai plays the music to foreign tourists
Explaining why spending most of his time to play music in the park free of charge Hai said, "Street music has never been popular in Vietnam. If you wish to enjoy a piece of music, you have to pay for it."

Hai added, "Rich people can go to a theater or a bar, those with less money will a choose coffee shop, but not all people can afford such an entertaining activity. I play music in the park to serve all music lovers, even homeless people and street children."

Not only playing music free of charge, Hai also wholeheartedly teaches it for free to anyone who wishes to play the violin or mandolin.

Hai has a pleasant time during the day, but when night falls, he begins to walk back to his small house on Nguyen Hue Street where he has lived alone for some years. At the age of 68, Hai should enjoy a happy reunion with his wife and children like many others of his age, but he lives a lonely life.

To forget his loneliness on solitary nights, Hai again plays the violin. He said, "Musical instruments, especially the violin, are intimate friends to me."

That's why in the silence of the night, Hai's neighbors can hear melodious tunes of once famous Russian songs gently coming from the old musician's house.