Rock music has been a mania among Da Nang students. Several student rock bands such as the Soi Den (Black Wolf), the Nhiet Huyet (Fervor) were formed. These student rockers may not have much money and time but much passion for rock. Just old-fashioned audio systems, second-hand drum sets and guitars are enough for them to play rock wholeheartedly.
These student rock bands have to overcome many difficulties in following their rock passion.
"It is not easy to form a rock band. The musical instruments and rehearsal room are too expensive for student's pocket," drummer Long, student of the Da Nang University of Economy said.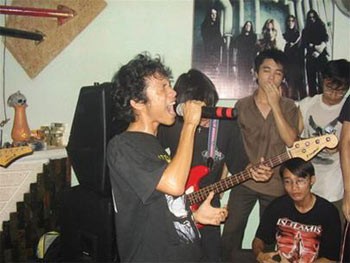 Kien (L) of the Tai Sinh band is performing in a coffee shop.
The "rehearsal room" of Long's Tai Sinh (Regeneration) band is a shabby house in Da Nang city's outskirt. The five-member band has just moved there to live, eat, study and play rock together at ease after they were expelled for making noise by previous hosts.
"After working overtime several months on end, we had only enough money to buy a second hand drum set, guitars and an audio system. Anyhow, the important thing is that we can gather to play rock with pleasure," added Kien, one of the members of the band.
In another story, the Bo Cap (Scorpion) band was unlucky enough to have all their hard-earned drum set destroyed by typhoon Xangsane. They have to work overtime and save money to buy another.
Hundreds of rock fans rushed to a coffee shop to enjoy a night of rock recently organized in Da Nang. There were widespread and inconclusive discussions about the concert before it happen some time ago.
The rock fans were bursting with the performance of well-known familiar songs and the bands' own works. The swing of heads and shouting shook the hot-blood student rockers amazingly.
"There is no need for pittance. We only need a place to play rock, shout and live in the rock atmosphere," Kien said.
There are few playing fields for rock fans in Da Nang. They primarily enjoy some rock music galas organized in coffee shops a year. And most bands come to rock because of their passion, not for money.