Refusing the chance to move abroad with his family, Mr. Kim of Thu Dau Mot, Binh Duong Province decided to stay in Viet Nam, raise pigs and get rich, and that's how it turned out.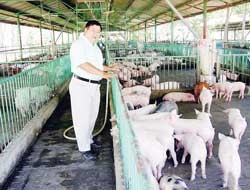 Mr. Kim stands beside his new pig breeds
One of nine children, Kim had a hard childhood. His parents had to work hard in their small private factory making pig feed. Because of his proximity to the animals, he became very familiar with pigs from an early age and found them to be intelligent and clean.

In 1986, his family left Viet Nam and settled down abroad. They wanted him to go with them but he refused and said he would be a pig farmer.

First he set up a small business with a little money borrowed from friends. It thrived and so in 1999 he established the Kim Long Company to make animal feed and expanded his farm to 33 hectares. In all, he invested VND26 billion in his pig farm.

Unfortunately, the price of pork dropped, disease ravaged his animals and he fell into debt. "The only way to survive after this disaster is to try a better way," he thought to himself.

After much study and experience of pigs and pig farming, he is now an authority on all matters porcine.

Recognizing the superiority of pig breeds in countries that are more developed in their animal husbandry, Kim spent nearly US$300,000 to import 200 pigs from Canada, France, America, Demark, Belgium and Denmark to form a pool from which he could do his own breeding.

The sudden change to a tropical climate killed four of the expensive beasts almost straight away. Kim wasted no time and installed a cooling system that kept the air temperature at 28 degrees centigrade in every sty.

Not only did he cross his own pigs, every year Mr. Kim spent more than US$10,000 to buy superior sperm from abroad.

Nowadays, the pigs he has bred himself are a match for any breed in the world. To ward off disease and keep his stock healthy, he uses a substance from India called Sanjiban to kill harmful germs and is always sure to vaccinate his pigs according to the recommended schedule.

Kim is eager to share his ambition to open more hi-tech farms with all the veterinary facilities and thereby help make Viet Nam a major source of pigs for the world.