The front façade of the post office building is richly ornate, and the entrance doorway is elegant and stylish with intricate iron grillwork on folding doors, with a large clock prominently featured above.
Wooden benches at the far end of the post office are a unique feature that provide visitors with space to write letters or send postcards back home, adding a warmth to the place. A large portrait of Vietnam's revered leader Ho Chi Minh, at the rear end of the hallway, is perhaps the only modern day addition to this enchanting colonial building.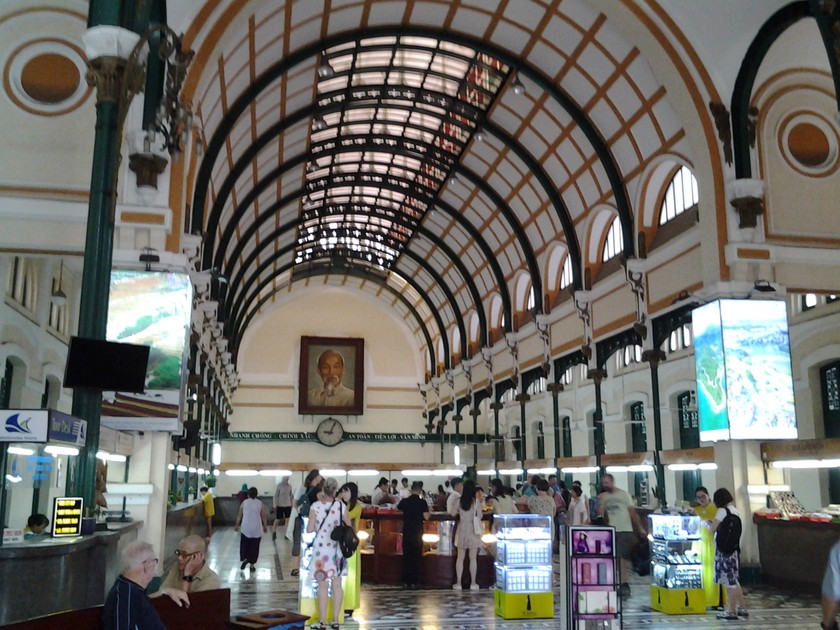 The interior of the post office with vaulted ceiling and antique patterned tiles is impressive.
However, another surprise awaits travelers to Saigon inside this imposing post office building in the form of a local icon, an 89-year-old octogenarian, named Duong Van Ngo.

Ngo can be found seated at the end of one of the wooden benches, writing a postcard for his visitors or just plain chatting about his life, now having been a witness to Saigon for the last nine decades.
Ngo is a small built man, frail with age, and extremely soft spoken, while being fluent in both spoken and written English and French, besides of course his native language, Vietnamese. He has been a 'Public Writer' at the Saigon Central Post Office since his retirement in 1990, where he has been working since he was 16 years old. The French called this profession 'Ecrivain Public', which actually is now the lost art of letter-writing, which goes back many hundreds of years.
For people who never learnt to read or write, Ngo has been a savior for many decades, penning their thoughts and sentiments in thousands of letters and post cards, to friends and loved ones across continents, never asking nor judging, but only seeking to express intimacy of unburdened words accurately and candidly in an incredibly solidifying genre called writing.
Duong Van Ngo was born in 1930 and lived in Cholon for his first 12 years with his father, an 'adjuster' with a local company and only living family member. Ngo has some blurred memories of an older brother who died during the war when Ngo was only six years old.
In his youth Cholon was a totally different region from the Saigon area, and it was only in 1976 that the three regions of Cholon, Saigon and neighboring Gia Dinh merged to form one big city called Ho Chi Minh City. Therefore, when speaking with Ngo he continues to refer to the City as 'Saigon'. He says that he moved to Saigon from Cholon at the age of 12, after completing his primary school 'Phu Lam' in District 6, where he learnt to speak fluently in French. He claims that it was easy for him to become fluent in French because it was a language that most people spoke in education as well as in society in general.
He joined high school in Saigon, and soon after completion he began working at the post office at the still tender age of 16. He worked on several counters, selling stamps, shipping parcels and receiving and delivering mail. In between he sat for an exam to become a secretary and was able to add more work to his portfolio, but his communication was still only in French and Vietnamese.
At the age of 36, the post office authorities were so impressed with his diligence and hard work that they sponsored his English classes at the Vietnam American Association, where American teachers taught him written and spoken English. He particularly remembers one American teacher, who was once a pilot, and who taught him phonetics and the correct English pronunciation. Ngo remembers him well because "he made me make faces, shape my mouth, take out my tongue, until I got the correct sound"!
Ngo retired in 1990 at the age of 60, but was given special permission to continue to work in the post office as a 'public writer', a job and position that has made him famous across the world, even earning him a prestigious honor in the Vietnam Guinness Book of Records as the longest serving 'Public Writer' in Vietnam, and his service to the people is appreciated everyday by the multitude of foreign visitors who greet him and are fascinated by his simple life story.
His advanced age does not stop him bicycling to the post office to start a normal working day from 8:00 am until 3:30 pm. He gave up riding a motorbike many years ago because of his inability to handle the heavy weight. His bicycle gets him to work from his home just two kilometers away, and his routine has remained unchanged. Every morning he carries with him a plastic bag with a few essentials for the day, while another black bag which has his well-worn dictionaries in French, English and Vietnamese, and innumerable diaries and newspaper clippings of him by international journalists and his indispensable magnifying glass, he leaves in safekeeping at the post office locker, to be retrieved by him again the next morning.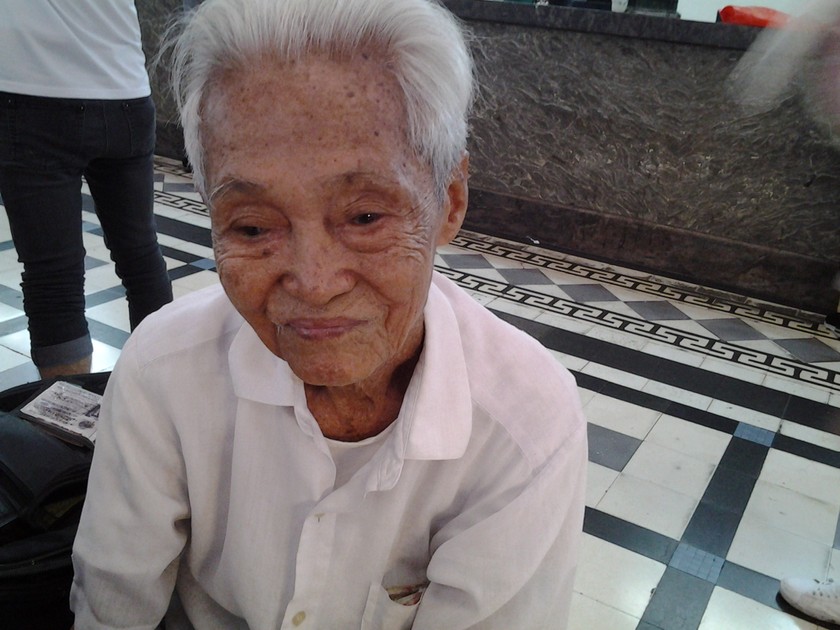 Duong Van Ngo is 89-years-old, and still works at the Saigon Central Post Office.
Ngo sits at the end of one of the wooden benches for most of the day, where he hangs a cardboard sign that reads 'Public Writer' in Vietnamese, English and French, and where a chair for his visitors is exclusively bound tied to his part of the bench, so no one can remove it! He only gets up to go for his lunch at the post office canteen, which he smilingly says the post office provides absolutely free for him.
He is old but not weary of his job and never fails to keep his routine. "I have breakfast at home before coming here, because it is important for me to clean my teeth before leaving the house, they really are in bad shape now". He laments about the condition of his teeth, though he does not wear dentures. Although he is still amazingly agile, he does need a daily pill for his high blood pressure and the occasional medicine for his cold.
He sits on the wooden bench with his paraphernalia of dictionaries and notebooks and pens, and it is never very long before some curious tourist comes to have a chat with him and Ngo delights them in his fluent French and English.
His eyes gleam with warmth, though now watery with age, but he hears very well as he pays full attention to words and rarely misunderstands what you say. His voice is soft and wispy and clear and he talks about his life and his many decades within the walls of the post office, so much so that he has never had a desire to travel to another country or even within Vietnam. He has only made a trip to Ha Tien in the Mekong Delta area and on one other occasion only to Dak Lak Province in the Central Highlands region of Vietnam. His routine life has centered in and around the post office during the day and with his family every evening.
His family is large, with two sons and four daughters. His wife is the same age as him, but now quite feeble and spends a lot of time just watching television. He is particularly proud of his grandchildren who he says are doing very well in school.
Ngo's life story is seemingly a simple story on the surface, but profound in message with a relevance that transcends time and place. It speaks of the universal truths of a man's existence within this world, where pride, respect, tenacity, and integrity fuel a man's daily existence without the quest for ambition, fame or glory, or even of opportunities missed.
His life remains simple and practical and uncomplicated and takes up no more space than the basic requirements of man, and therein the message is clear, of an indomitable and formidable spirit of man.
Ngo stands as a symbol of an attitude towards life, as a man who continues to do whatever he must do to the best of his ability, no matter what tribulations befall him.
The quality of a man is best seen through his actions, and Ngo's legacy is clearly his simple unquestionable integrity to his work, and he will be remembered by all he met with at his workplace in the enchanting Saigon Post Office, and by the thousands who reached out to him in the decades gone by.
Ngo's world is dominated by people of all walks of life, and he has worked consistently and ceaselessly, unconcerned with outside events, however turbulent they had been. When asked about any events that shattered the world during most of Vietnam's history, he stays unmoved. For all his working life he says, Saigon remained mostly peaceful, and particularly in the post office he has never known any unrest of any kind.
He exudes energy in that tiny frail frame and sees his work as a great public service, knowing well that he is unique in this profession, and is proud when he says, "no one can replace me", even if modern technology has brought about a decline in the lost art of hand letter-writing.