With a burning desire to fulfill a long-held dream of the entire village, four Quang Tri peasants were determined to build a VND 1.5 billion bridge across the Ben Tat River despite lack of resources or specialized knowledge.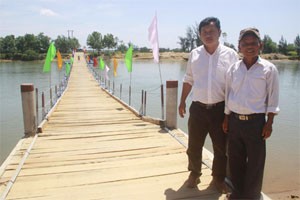 Tran Cong Chuc (L) and Tran Duy Bon stand on the pontoon bridge beaming with happiness
Inhabitants of Vinh Son commune still call 58-year-old Tran Duy Bon, 45-year-old Tran Van Truong, 42-year-old Tran Cong Chuc of Vinh Son commune and 46-year-old Pham Dung of Trieu Phuoc commune, the Quang Tri risk-taking peasants.

These four peasants even postponed their agricultural work to carry out a seemingly impossible project, which is, building the 110-meter pontoon bridge connecting Vinh Son commune and Hai Chu hamlet.
This pontoon bridge plays such an important part in Vinh Son commune. The villagers here can now go to-and-fro between Vinh Son commune and Hai Chu hamlet. This is such a dramatic change for these people because this land was intrinsically isolated by the Ben Tat and Sa Lung rivers until some month ago.
According to 54-year-old Tran Thi To, before the bridge was built, when villagers wanted to go from Vinh Son commune to Hai Chu hamlet or vice versa, they had to make an 18-kilometer detour.
They would try to use the unstable ferry-boats but then would change their minds fearing a tragic accident on stormy days.
Although the idea of a bridge entered their heads, no one dared undertake the project except the four peasants, Bon, Truong, Chuc and Dung. The billion VND project was realized finally in early 2009.

As planned, Chuc was made in charge of finances, Dung, who had experience in building pontoon bridges, was responsible for the technical side, Bon, leader of Huynh Xa Ha village reported the 2-year process to the villagers and Truong prepared the necessary legal documents. 

During the two years, despite support from the villagers, these four peasants encountered many difficulties, namely lack of knowledge and experience in building bridges, money matters and most importantly, problems with positioning the bridge. After discussions, they finally agreed to choose Huynh Xa Ha hamlet to put up one bridgehead.

When the positioning problem was overcome, money matters caused anxiety. Despite the fear of bankruptcy the four peasants set out to realize the villagers' unfulfilled dream. They pooled together money mainly by taking out loans from banks and money lenders.

As Chuc said, they were bent on completing this project because of its immense economic value to their village. This was the dream of all the villagers. When the bridge was completed exactly on April 30, 2011, Chuc and his team felt a deep sense of achievement and contentment seeing the happiness on the villagers' faces.

To acknowledge the group's noble "labor" and express their gratitude the people willingly donated some money towards the bridge construction.

Nguyen Van Luong, chairman of People's Committee of Vinh Son commune praised the four risk-taking peasants for helping in resolving the villagers' pressing demand. Although the pontoon bridge is now in use, Bon and his team continue to hope to receive outside support to improve the quality of the bridge.