A young AIDS sufferer determined to get the most out of life while he can has overcome his fear of death to help the similarly afflicted secure a better future for themselves.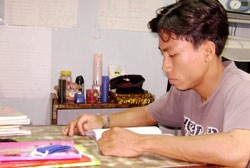 Hung studies at home to prepare for the entrance exam to university or college
At the age of 15, Nguyen Hung was so devastated by his parents' divorce that he abandoned school and took solace in hard drugs. To get the money to waste on illicit substances and in pubs and bars every night, he took part in robberies and other crimes.

Eventually Hung began to wise up to what the drugs were doing to him and the misery he was visiting on his family, so he set off to the north in 2000 in an attempt to give up his heroin addiction and found work as an apprentice in a garage.

After three years, he returned to Ho Chi Minh City to start a new life, but it was here that he found he had contracted HIV.

Fortunately, after receiving treatment and encouragement from the Tieng Vong support center for AIDS patients, he gradually regained his health to a degree.

In 2004 he was well enough to volunteer as a nurse and a consultant at the center, looking after the other patients and encouraging them to fight the good fight.

The following year, a decade after quitting school, Hung resumed his formal education in his spare time to better equip himself for what remained of life.

Nowadays, he does his best to combat the disease by exercising every morning and studying hard in the evenings to prepare for the entrance exam to university or college.

He seeks a better life in order to prove the tenet "Life ends only when we give up hope and effort".