A paraplegia boy from the central province of Quang Tri wouldn't let anything get in the way of his education. For a testament to his determination, one only has to witness his unique method of walking with his hands, climbing mountains and crossing streams through dense jungle, to get to school each day.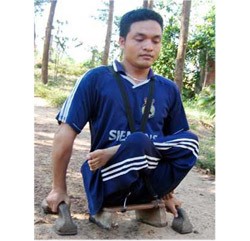 Ho Xuan Long is on the way to school through the jungle
Ho Xuan Long is a Van Kieu, an ethnic minority in Viet Nam. He is the son of a solider from the region, which was heavily sprayed with toxic chemicals.
As a result of the after-effects of the chemicals, Long was born with no legs. To make matters worse, Long's father died when he was only eight, leaving the family too poor to adequately care for him.
At the age of thirteen, a group of visiting teachers came to his village and Long entered the first grade. Unfortunately, the teachers moved on to other villages in need, and his education was put on hold.
However, rather than waiting for something to happen, Long made something happen. Long journeyed into the jungle to reach the nearest community of Huc in search of more education.
Vice principal and teacher Mr. Phuong met with Long and administered an aptitude test. Pleased with the results and with Long's determination, he admitted him into the fifth grade at the local primary school.
Moreover, Mr. Phuong even tutored him in the evenings to help him catch up to the others in his class, and taught him to realize that education was key to turning around the fate that he had been dealt.
For Long, the education was the easy part. With his father dead, and his mother in poor health, it was up to him to make his way to school.
To get there Long traveled on paths through the jungle, going over mountains, crossing streams, and passing through thick patches of undergrowth.
The journey took him many hours, requiring him to leave home in the dark of night, to head into the jungle in order to make it to school by seven each morning.
As Long started to make this journey a daily affair, a loving neighbor helped him by designing a "walking" aid for him. The aid is basically two solid blocks with handles on them that Long sets down by his sides, grips the handles, and then uses his arm strength to lift himself and move forward.
Despite the assistance of the aids, the journey presented many obstacles to Long.
He recalled that once on his way home from school after the rains, the stream level had risen too high, and he wound up spending the night in the jungle, cold and hungry.
As if Long had not experienced enough hardships in his life, it looked as though his education would come to a halt after he had completed secondary school.
The local high school was in a different village, which was beyond his reach.
However, as luck would have it, a group of Catholic nuns from Phuoc Tuyen Church in the nearby district of Cam Lo heard his story and wanted to help. They provided Long with room and board near the high school, allowing Long to continue his educational pursuits.
Long graduated from the high school, and went on to successfully pass the university entrance examination.
He is now an information technology student at the College of Education in Quang Tri.
Because of his poverty and physical condition, the local authorities agreed to relieve him of half the yearly school fees, worth VND 900,000. Long works part-time in a computer installation factory and tutors children to earn the other half of the fees.
While Long doesn't have as far to go as he once did, he still encounters many hazards on a daily basis, including trying to cross busy streets full of motorbikes.
When he does have free time, he goes back to the jungle paths he started on to make it back to visit his ailing mother.
Long's tale is an inspiration to anyone who believes their dreams are out of reach. He had near death experiences traveling through the dangerous jungles, alone and afraid, yet he managed to persevere in his unparalleled quest for knowledge.
Long is bound to be successful at anything he tries, and he will conquer any barrier that stands in his way. His incredible resolve will make certain of that.