During spring each year, an old village patriarch Vo Lang from Hong Kim Commune of A Luoi District in Thua Thien-Hue Province can be seen repairing or making a khen be, a traditional music instrument of the Ta Oi ethnic minority community.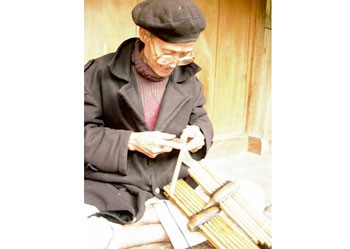 Village patriarch Vo Lang making a khen be from a la tree. (Photo: Sggp)
Vo Lang's house is located on a hill and near the imposing A No water fall on the Truong Son mountain range. Most evenings one can hear the sounds of khen be resound in the valley.
'I was introduced to traditional music instruments in early childhood', says Lang.
When he was 15, he was part of a local group that provided support to soldiers and later he became a guerilla fighter in the war. The sound of khen be was a spiritual friend that encouraged him and his comrades to overcome many difficulties and challenges during those painful days.
After the war, he returned home inspired to produce music instruments.
At the age of 90, the village patriarch walks tens of kilometres  everyday into a deep forest to choose hollow tubes of a la (a kind of bamboo) to make khen be.
He also makes other instruments such as a reng, te re and tu va that are regarded as essential musical instruments in local festivals and rituals in the village.
Village patriarch Vo Lang is a unique artisan who has spent more than 20 years in producing musical instruments of five ethnic groups of the Truong Son mountain range.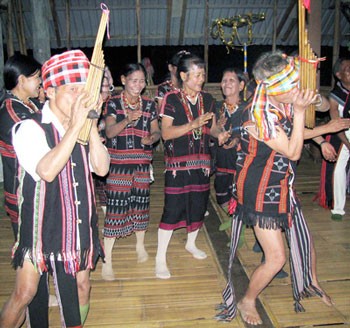 Khen be is one of the traditional music instruments of the Ta Oi ethnic minority group. (Photo: Sggp)