More than 30 of the 93 residents of The Thi Nghe old people's home are completely paralyzed, and it's enthusiastic orderlies like Ms. Ho Thi Ngan who lavish care on these stricken inmates. 

Party member Ngan, who has been an orderly here for more than 20 years, says that, despite the hard work and low pay, she is proud of her job and what she has contributed to society through her chosen career.

When asked about the difference between her and a hospital orderly, Ngan says, "Well, we do almost everything. Aside from taking care of the elderly, we have to wash and massage them, clean up and such. And when one of the residents passes away, we have to bathe them with wine and dress them for the funeral."

Ngan remembers how one time one of her senile charges was throwing his waste all over the place and Ngan had to clean up the room and bathe the old codger before putting him back in bed.

Because of the old folks' poor health, Ngan can be awakened at any time in the night to take one of them to hospital.

She knows full well that outside the four walls of the shelter is an ebullient life where people dress up, eat and drink in fancy restaurants, and spend their money on the latest gadgets and toys.

She also knows there are high-ranking officials and party members who abuse their power and position to amass riches for themselves while she, like all the employees here, must get by on a modest salary.

"Now and then the hospital nurses and orderlies get small thank-you gifts from their patient's relatives," says Ngan. "We, on the contrary, never get presents yet sometimes we spend our own money on cakes and biscuits for the old folks as we just wish to see a glint of pleasure in their dim eyes."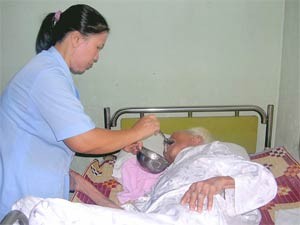 Ms. Ho Thi Ngan spoon-feeds a heroic mother
 What keep her here is a rare dedication to her fellow humans and the moments when she can share the elderly people's sorrows and happiness. Many of the inmates used to be brave revolutionary soldiers and love to tell her about their glorious deeds and their younger days when they did not hesitate to risk their lives for independence and freedom. By listening to their stories, she makes them happy.

"The people here should have had a happy life. Yet every one of them has had a rough deal!" says Ngan.

"While other soldiers were reunited with their families after the war, these ill-fated ones had no choice but to fall back on this place and have lived lonely lives here in the end. That's why they're so irascible. It's our job and our responsibility to sympathize deeply with them!"

She reckons most of her fellow orderlies view their job as "karma" - good or bad, it's hard to say - but they have pride in their career. "Every time when leaders of the central or city government visit this place, they see us as representatives who, on behalf of the state and the government, take good care of martyrs' parents and relatives and of demobilized soldiers," she says.

Many visitors have witnessed the excellent care the orderlies lavish on the old people and are quick to praise their success in creating a comfortable home for their charges.

Commenting about her and her colleagues' work, Ngan says, "No matter how hard our job is, it can never be compared with the great sacrifices and losses of the older generations in the fight for national independence."

Looking at these small statures bending towards the old folks in their beds and spoon-feeding them rice soup, no one can deny that Ngan and her colleagues should be honored for their silent contributions to society.