"The wonder," a Vietnamese reality TV program featuring hopeful stories about disadvantaged citizens who have overcome incredible hardships, is receiving high praise from audiences.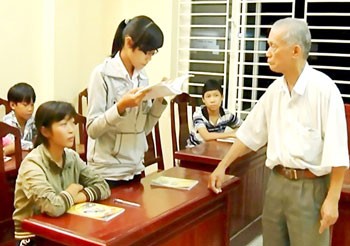 86-year-old teacher Tran Ngoc Diep (R) is running an English class for the poor children.
Launched on February 1, the program moved many to tears after an episode about a paralyzed boy named Nguyen Le Hoang Trung from Binh Phuoc Province.
Trung suffered partial paralysis at just three years old when his drunken father stabbed him and then killed his mother. The boy's father was committed to prison, leaving Trung an orphan. He now lives with his maternal grandfather who is old and weak.
Against all odds, Trung strived to be a good student and in a few months, he will graduate from high school. The young student received hundreds of letters of support, phone calls and material donations following the broadcast.
The second episode, televised on February 28, was the story of 86-year-old English teacher Tran Ngoc Diep from the central coastal city of Da Nang.
Despite his advanced age, for the past five years  Mr. Diep has been running English classes and has mobilized benefactors to contribute money to establish a library for poor children in Hoa Cuong Nam Ward's Cultural House in Hai Chau District.
Although the program has been broadcast just twice, it has already left a deep impression with audiences nationwide.
"The wonder," produced by Ho Chi Minh City Television and the TVPlus Company, airs Sundays on channel HTV9 at 9 pm.

Viewers can contact TVPlus on the 7th floor, 255 Tran Hung Dao Street, District 1, HCMC to support the program or provide information for new episodes.