Hoa Huong Duong is gaining in profile day by day and is fast becoming the blog of blogs for a certain group of people. It's full of intimate talk by mothers who are struggling to save their children from drug addiction and AIDS or who want to light up the way to guide their misguided sons and daughters back home. And there are heart-wrenching accounts by women who have contracted HIV from their husbands.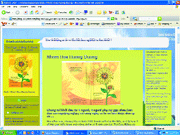 The surface of the blog Hoa Huong Duong
One of the stories tells of a couple with HIV whose son escaped the disease but has been shunned and sometimes badly treated by neighbors and viewed as a pilferer. As a result, the mother has had to move house and change her son's school.

She has managed to keep her son safe from the disease and, like a hen ruffling its feathers to protect her young, she tries hard to shield him from the harsh words of ignorant people.

"In spite of our occasional misfortune and very real difficulties, we will continue to live happily because our son is well," the blogging mother wrote.

Another tale comes from the mothers of a heroin-addicted couple. They became grandmothers but their husbands didn't know that their wives were visiting their newborn grandson in hospital. They took turns taking care of the baby for the month that he survived.

Then they began selling their blood so that they could feed the young mother but she died too. After all this grief, they decided to join the Hoa Huong Duong group to help others like their children.

The third story concerns a mother whose husband infected her with HIV not long before he died. Her child is healthy but she is worried sick that there will be nobody to look after the little one when she is gone.

The group's members have a saying: "Walk towards the sun and leave the dark behind". It's a philosophy that can help overcome pain and despair and continue on with life.

The group gives them contact with fellow sufferers and a sense of belonging. Moreover, the voluntary work for HIV-infected people gladdens their hearts.

For instance, knowing that Ms. L, the woman in the third story, had become pregnant and there was a grave risk of her transferring the disease to the baby, the group's project managers traveled hither and thither seeking medicine for the mother. When the baby's test results came back negative, they cried for joy.

The mothers also shed a tear upon hearing of an infant dying of AIDS.

A mother's heart can make a misguided child turn back. For instance, Ms. M's son, an HIV-infected drug addict, was a very naughty boy but eventually he returned to the right path. His experience and understanding stood him well when it came to helping his mother steer wayward women away from their destructive lifestyle.
The Hoa Huong Duong group has more than 100 members in Ha Noi, 70 in Quang Ninh, 40 in Thai Nguyen and 20 in Cao Bang.