High school students who are interested in film making have recently produced short pictures by themselves and posted their works online. The Internet has the advantage of helping them easily reach viewers who are in the same demographic.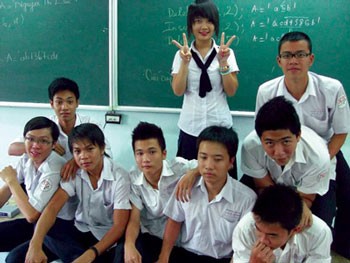 The "film staff" of the movie "TRY" are students of Nguyen Chi Thanh High School in HCM City.
Without the aide of modern, professional cameras, amateur "film producers" can shoot a film with just a handycam or a cell phone.  The "directors" and "actors" are not professionals either, but simply groups of friends.
A short film titled "TRY" has recently attracted a great number of viewers, primarily high school students.
The movie produced by a group of students of Nguyen Chi Thanh High School in Ho Chi Minh City.
The film tells a story of a young boy, Nam, who was raised in a poor family and studies hard in school. But he is a victim of bullies. Nam overcomes his fear of fighting back and resists the tormentors after they kidnap his girlfriend.
Although available on free social websites, young people have also purchased the film in DVD form, at a price of VND20, 000 (US$1).
The film soundtrack, composed by a member of the "film staff", has been become popular among students.
"TRY" shows daily activities in a school which are very familiar to students. Although amateurs made the film without formal training, it receives high commendation from many viewers nonetheless.
Another film entitled "Tears of Foetuses," made by team of students in Hue, won the second prize of the national student film festival.
To encourage young people to demonstrate their abilities by making films, the Vietnam Movies Association annually holds Canh Dieu (Kite) short film festival. However, the event has mostly attracted students of University of Theater and Cinema.
A student film festival for primary school students held last year created many movies clubs in primary schools.
 
Relevant departments such as film associations, organizations and schools focus on encouraging amateur young filmmakers to help them to make works that reflect their dreams and spontaneous creativity.