Viet Nam's first safe coal has been produced by a man without formal education or money, and his research was awarded the "Cultural Entrepreneur" prize by the Center for Business Culture of Viet Nam.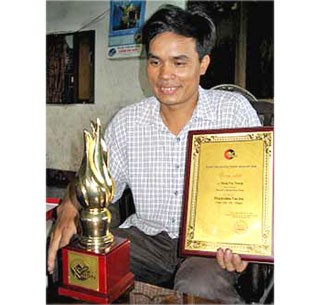 Thuong and the certificate of quality for his product, safe coal
A talk between reporters and the young man, Hoang Van Thuong, was repeatedly interrupted by phone rings.
Thuong revealed that most calls are to place orders as Japanese, Chinese and Filipino visitors to his production shop have been very interested in his products and are buying large amounts.

Thuong will set up a joint stock company soon to facilitate business transactions with foreigners.
The young man told reporters about his life and the procedures for making safe coal. Born in 1963, he and his family left the poor northern province of Ha Nam for Ha Noi in hopes of striking it rich. He took many jobs to earn a living.
In 1994, an old friend just returned from Japan told him in a meeting that coal used in other countries makes strong fires without smoke or unpleasant odors. Since then, he has cherished the dream of producing safe coal.
He traveled widely in search of chemicals to mix with the coal. He cannot remember the number of times he failed, but it never deterred him from his quest to make safe coal for Viet Nam.
He traveled through provinces in the north to learn how to create odorless, smokeless coal, before at last setting off for Central Viet Nam, for the highlands, and for the southernmost province of Ca Mau.
On the way to success, he has found himself in emergency rooms many times, sick from inhaling fumes after passing out in coal fields. His quest haunted him so much that even in a hospital bed he conducted research well into the middle of the night.
Success came at last, with a blend of sawdust or the bark of a flammable tree with coal.
In the meeting, he introduced two more kinds of coal; one for industrial production, and the other made of coconut shells. He has revealed the secret of making safe coal in the hope that people in every corner of the country will use it to protect their health and the environment.
Hoang Thuong's coal has met Vietnamese standards and his company has received a certificate of quality, according to a report by the Directorate for Standards and Quality.