The living conditions of a Jrai community in the Central Highlands province of Gia Lai has drastically improved since a company has begun employing residents as farmhands.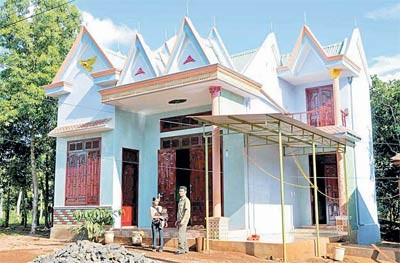 A newly-built house owned by a Jrai ethnic worker. Jrai ethnic people are building spacious houses with their new higher incomes reaped from jobs as modern farm workers (Photo: SGGP)
Thatched huts previously located near the Laotian border in Duc Co District have been now replaced by solid and spacious houses, and even some costly villas surrounded by rubber, pepper and coffee farms.
 
Colonel Tran Quang Hung, director of 74 Company, which has been transforming poor farmers in to well-paid farm workers, said he first visited Duc Co as a foot soldier in 1975
 
"At that time, going from the main road to the village took me two days and I needed to use a bush-hook to clear the way.
 
"Back then, ethnic minority people ate with their fingers, and they only knew how to plant one-crop rice. They shifted cultivation like wandering hill-tribes.
 
At night, after working at their military posts, Hung said soldiers were fire up torches to visit local Jrai homes and encourage them to grow rubber trees.
 
"We wanted to build dikes and dig ditches to water trees, but they didn't allow that. They said 'God gives us the stream with flowing water, let the water flow, and don't touch it.'"
 
He also said they opposed the building of schools and wouldn't let their children attend.
 
"They said, 'People have long died of starvation, but never of a lack of letters,'" Hung said.
 
"After a long time of patiently encouraging them, they changed their ways."
 
Ro Mah Klum, an old ethnic man, said, "Previously, people expected only rice enough to live, but they couldn't earn enough to live on from farming rice so the Government usually had to give famine relief."
 
"It was difficult to earn money, but spending it was more difficult as we had to climb over tens of hills to buy food and things," he added.
 
"Since soldiers have arrived and launched coffee and rubber tree growing campaigns, we've been more interested in tilling the fields as workers."
 
He said the soldiers had taught them to grow these new crops alternately with short-term crops like maize and beans.
 
"Before, we never had enough food to eat, but now we have enough money to live because we work for the company."
 
Now that the Jrai believed in the way, the area will prosper, Klum predicted.
 
The changes in lifestyles, working conditions, management and hope for better lives has already boosted average Jrai incomes in the area to VND6-7 per month.