Vietnamese historian Phan Huy Le was elected a foreign correspondent member of L'Academie des Inscriptions et Belles-Lettres (the Academy of Inscription and Beautiful Literature) in France on July 8th.
Speaking when hearing the news, Prof. Le said: "I am very astonished because I was not aware of the academy's voting and selection process. It is a big honor not only for me but also for all Vietnamese social scientists".
Born in 1934 in the central province of Hà Tĩnh as an offspring of a family with many famous feudal-time scholars, Phan Huy Lê graduated from the Hà Nội University in 1956, and worked for its History Faculty. After graduating with degrees in history and geography from the Ha Noi Teachers University in 1956, he worked as an apprentice under the instruction of well-known professor Dao Duy Anh.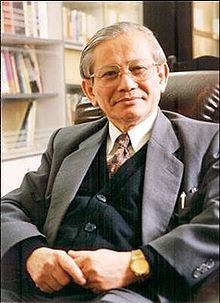 Prof. Phan Huy Lê
Two years later, he was appointed as the chief lecturer of the subject of Việt Nam's ancient and medieval history.
He contributed to opening two new and important theories: orientalism and Vietnamese studies of Ha Noi National University's College of Social Sciences and Humanities. He was the first Vietnamese to receive the Fukuoka Asian Cultural Prize in 1996.
The life of Prof. Lê is closely attached to Hà Nội where he lives and devotes his whole heart, mind and passion to researching and protecting the cultural and historical heritages of Thăng Long–Hà Nội.
For years, the Việt Nam History Society, chaired by Prof Phan Huy Lê, has made considerable contributions to defining historical and cultural values as well as preparing the dossiers of the Thăng Long Imperial Citadel as a national-level heritage, then as a World Cultural Heritage.
Prof. Lê has also helped to compile similar dossiers for "the Phù Đổng Festival" and "Doctoral Steles at Văn Miếu-Quốc Tử Giám" to be recognized by the UNESCO as world heritages.
The professor has presided over many major seminars about Thăng Long-Hà Nội, and been an author of different researches about the capital city's history, culture and celebrities.
Phan Huy Lê was conferred the professor title in 1980, the People's Teacher in 1994, and the State Award in 2000. He was the first Vietnamese person that received the Asian Cultural Award Fukuoka from Japan in 1996, and the Order of Academic Palms from France.
Prof. Phan Huy Lê has been nominated as one of ten most outstanding Hanoians in 2010.
He is currently the president of the Viet Nam Association of Historical Sciences.
Established in 1663, the Academy – one of the five academies of the Institute of France – specialises in research of history, archaeology, philosophy and humanities of ancient times, the middle ages and the classical period of Western Europe and Far East.